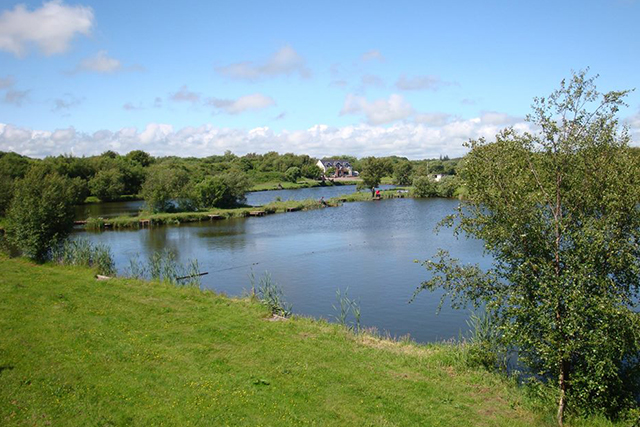 Coarse fishing is a growing sporting activity in Scotland, and they now have nine fully stocked lakes, including a purpose built canal lake.
Situated within easy access of the M6 and M74, Broom Fisheries' peaceful and natural environment attracts regular anglers from all over the country.
Lakes:
Bruce's Acre (14 pegs) – A popular pleasure/match

lake, well suited for rod and pole fishing, similar to Queensberry Water as the two are linked together via two culvert bridges. O

pen to pleasure fishing Monday-Saturday,

 but often closed for matches on Sundays.

Canal (16 Pegs) - Canal is predominantly a pleasure fishing water but occasionally matches are held on this water. Best tactics include method feeder fishing for carp and pole fishing with baits such as corn, pellet and meat.
Donut (14 Pegs) - Donut is predominantly used as a pleasure fishing water. This water is generally suited better for rod fishing, can get a little weedy for pole fishing during summer months.
Link (3/4 pegs) - Situated between the Square & Canal, this lake is an excellent pleasure fishing area which regularly produces large carp.
Queensberry Water - A very popular water, for both pleasure and match fishing. The lake is open for pleasure fishing Monday – Saturday but is generally closed on Sundays for match fishing, which has become increasingly popular. On rare occasions on Saturdays, club matches are booked on it also.
Square (12 pegs) - Square is predominantly a pleasure fishing water, although a popular match water during the winter months. This lake is ideal for pole fishing, both deep and shallow. Worm, maggot & caster over groundbait works well, with 30lb+ of silverfish are regularly recorded during matches.
Wallace (18 pegs) - Opened in 2016, the lake is fully stocked with small mirror carp, ide, skimmers, roach and perch, with a handful of larger carp up to 16lbs. Wallace is a 'match only' water, due to increasing demand on match days, and to occasionally free-up one of the other match waters on Sundays for pleasure fishing. Wallace water is the proud current holder of the Scottish Match Fishing Record, which now stands at 128lb 6oz.
Species: Barbel, roach, tench, perch, bream, rudd, ide, gudgeon, chub, and carp.
Extra Information:
Well-stocked tackle and bait shop
Caravan and campsite
Nine lakes
Day Ticket Prices:
Rules: Please consult the fishery.
---
PLEASE NOTE: The above information is subject to change. Please contact the fishery for the most up to date prices, opening times, rules and other information.
Contact Details
Address:
Broom Fisheries, 
Broom Farm Estate,
Newbie,
Annan,
Dumfries & Galloway,
DG12 5PF
Telephone: 
Office Number: 01461 700 386 
Fishery Manager: 07850 157 668
Website: broomfisheries.co.uk