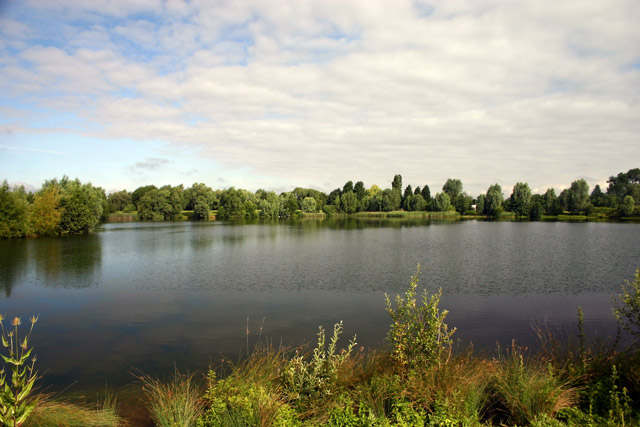 Bluebell Lakes opened in 1994 and has become one of the very best big fish day ticket waters in the country with carp to 50lb and a massive number of 20lb to 30lb specimens.
There are are other species worth targeting, including pike to 41lb, bream, tench, chub, perch and roach. There are two big-fish waters (Kingfisher and Swan), two mixed waters (Bluebell and Sandmartin) and a heavily stocked carp water (Mallard).
Bluebell Lakes also have an attractive two-mile stretch of the River Nene and a delightful backwater called Willow Creek that are well worth fishing.
Lakes:
Kingfisher (Big fish) – Firmly established on the big fish circuit, Kingfisher Lake has over the years produced some stunning carp, and continues to do so. Contains some huge fish to well over 50lb and very few fish are now below 30lb. A lake that's not for the faint hearted, but where patience and persistance can be rewarded.
Swan (Big fish) – Now very much as important as Kingfisher Lake as a big carp water. Swan is 12 acres and quite weedy and also holds carp over 50lb. Catfish to 90lb+ are also resident. If you land one of these monsters you are welcome to ring the shop as they have specialist mats and weigh slings specifically for these specimens.
Bluebell (Mixed fish) – One of the busiest and most popular lakes with carp to 35lb, tench over 14lb, bream over 12lb, chub over 8lb, eels over 7lb, roach over 2lb and perch over 4lb. A lake where you never quite know what you will catch, or how big it will be.
Sandmartin (Mixed fish) – Sometimes overshadowed by the other lakes on site but full of fish, with carp to over 30lb and lost of other species. A nice water to fish with some interesting features and depths.
Mallard (Heavily stocked carp) – Opened in spring 2008 is a 20-acre water with over 60 pegs in a beautiful and tranquil setting. Contains 30lb carp and an injection of over 1000 double figure carp to make this a popular runs water.
Species: Carp, catfish, tench, bream, roach, perch, eels and pike
Rivers:
River Nene – A two mile stretch of river, complete with lock and weirs. the reeded margins, lilly pads and bankside vegetation make this an idyllic setting for a days fishing, and most importantly the river holds a good head of fish and can provide wonderful sport. A wide variety of species includes gudgeon, roach, perch, bream, tench and chub to over 6lb. The best Bluebell river caught common carp stands at a very impressive 36lb. Specimen pike to 20lb are also possible. Over 80 pegs, most of which are accessible by car (subject to dry conditions ).
Willow Creek – A delightful and heavily tree-lined backwater which divides the fishery into two halves. The creek runs off the main river down the weir and rejoins it half a mile further. It holds lots of silverfish and all species you would expect from flowing water, including specimen perch, chub and carp to 25lb.
Species: Chub, barbel, carp, roach, dace, perch, eels and pike
Extra Information:
Bluebell Lakes Tackle Shop on site selling most top brands. Although predominantly carp based, it also has a small pike section.
The minimum age for Kingfisher and Swan Lake is 16 years
Caravans, motor homes and large frame tents £5 per night
Pike fishing is only permitted between the months of October and March
Ticket Prices:
From £10 for two rods for Bluebell, Sandmartin and Mallard
From £30 for 24 hours for Kingfisher and Swan
From £5 for the Nene and Creek
(Please consult the fishery's own price list for full details.)
Rules: Please consult the fishery
---
PLEASE NOTE: The above information is subject to change. Please contact the fishery for the most up to date prices, opening times, rules and other information.
Contact Details:
Address:
Bluebell Lakes
Tansor
Oundle
Peterborough
PE8 5HP
Telephone: 01832 226042
Website: www.bluebell-lakes.co.uk