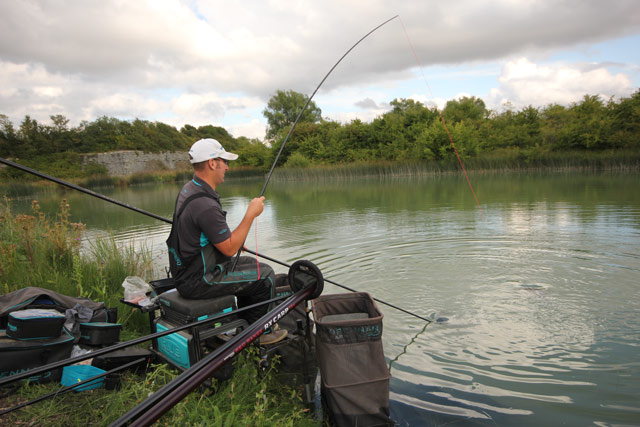 Bishops Bowl Fishery is situated in a lovely rural setting, just outside of the villages of Bishops Itchington and Harbury on the Oxfordshire/Warwickshire borders. The lakes are set in a former 90-acre limestone quarry, which has been allowed to flood naturally. The quarry work many years ago has created an attractive stone faced bowl, which has two areas designated as Sites of Special Scientific Interest, while the whole site is recorded as a Site of Interest for Nature and Conservation.
This unique fishery offers a wide variety of lakes to cater for anglers of all abilities. The fishery aims to provide a top venue in Warwickshire for the match, club, pleasure and specimen angler, whilst preserving and respecting the fish and surrounding wildlife, and maintaining the unique environment of the site.
Lakes:
Walworth – This lake has huge potential for an enjoyable day, whether pleasure or match fishing. Pellets, paste and luncheon meat are the best baits during the summer months, with the silver fish coming to maggots and casters over groundbait during the winter. It has a large stock of carp from 4oz to 10lb+, bream to 4lb, crucians to 2.5lb, numerous tench to 4lb, plus roach, rudd and perch. The lake is suitable for pole fishing and ideal for club matches and pleasure anglers who want to catch a wide variety of fish.
White Bishop – A consistent lake throughout the year, offering good catches of carp in summer and silverfish during the winter months. Match weights have been recorded in excess of 140lb, comprising carp, bream and tench in equal measures. Meat and paste score well during the summer with maggots and pellets during the colder months. Silve fish weights have exceeded 50lb, with many fish coming shallow on maggot or caster fed regularly. Tench fishing in this lake is also remarkable, with fish exceeding 7lb and numerous around the 3-4lb mark.
Greenhill – A unique 24-acre lake sheltered by cliffs. The expanse of the water is broken by a number of islands, channels and bays with depths from from 2ft to 35ft. Contains vast shoals of big roach, bream and tench as well as specimen carp to 32lb+ and pike to 26lb+. A perfect destination for the specimen angler.
Rushglen – A 3.5 acre lake, full of features, islands and rush beds. Classed as a runs water with lots of carp from 5-20lb, large bream to 9lb, and roach exceeding 2lb. An ideal lake to catch lots of fish as it has a high stock density. It is popular with night anglers who want plenty of bites.
Eastwell – An intricate lake with lots of rushes and hidden underwater features. A lake with hardly any carp, it is aimed at the tench and crucian anglers with tench to 5lb, and crucians over 1lb. An ideal getaway for the more traditional angler.
Marshes 1 & 2 – Two popular lakes for matches, clubs and pleasure anglers, heavily stocked with crucian carp, tench, bream, barbel, chub, mirror carp, common carp, roach and rudd. Popular lakes for anyone looking for a good days fishing. Pellets, meat and paste work well in the summer, with maggots, pellets and caster in cooler months.
Cliffs – Stocked with crucian carp, tench, bream, barbel, chub, mirror carp, common carp, roach and rudd. Bream are the largest species in this lake, with fish from 3-7lb commonplace and an abundance of other fish to keep you busy.
Mitre – Currently being redeveloped into a first-class specimen carp water.
Species: Carp, tench, bream, roach, rudd, perch, pike
Extra Information:
On-site shop stocking quality tackle and fresh bait
Experience days, taster days and coaching days available
40-seat cafe open every day during fishery open hours
Day Ticket Prices:
Adults: £7
Concessions: £5
Specimen: £10 (2 rods, additional rod £2)
Specimen Night Ticket (up to 25hrs, 3 rods max): £22
Rules: Please consult the fishery
---
PLEASE NOTE: The above information is subject to change. Please contact the fishery for the most up to date prices, opening times, rules and other information.
Contact Details
Address: 
Bishops Bowl Fishery
Bishops Itchington
Leamington Spa
Warwickshire
CV47 2SR
Telephone: 01926 612379 or 07970 196044 or 07599 934382
Website: www.bishopsbowlfishery.co.uk