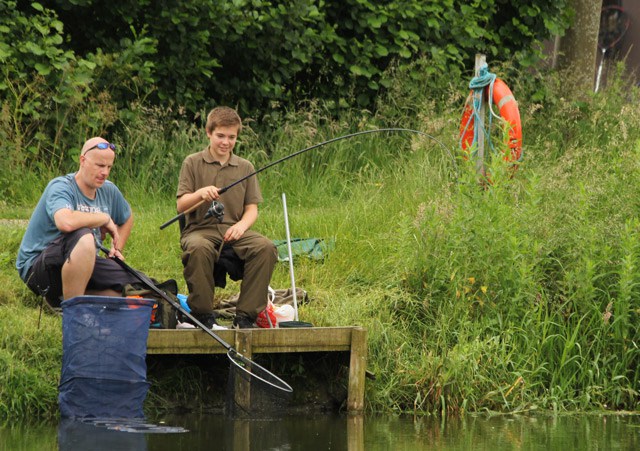 Based on the outskirts of Norwich in Norfolk, Barford Lakes offers an impressive range of fishing across four venues. There are a total of eight well stocked lakes holding a good variety of fish, including carp, tench, bream, chub, crucian carp, golden tench, orfe, chub, roach, rudd and perch.
For anglers of all abilities it offers some of the very best fishing in Norfolk with something to suit everyone, whether they are a casual angler, match angler or a specimen hunter.
Car parking, a toilet block and a fully stocked tackle shop are also on the main site.
Lakes:
Barford Pleasure Lake (35 pegs) – Based at the main Barford Lakes complex, it is an attractive and mature 2.5 acre lake which has been running as a commercial day ticket water for over 10 years and has been developed with the pleasure angler in mind. Well stocked with mirror, common and ghost carp into the high teens with the majority of fish weighing around the 6–10lb mark. There is also bream to 10lb, tench to 6lb, and golden tench and orfe to over 3lb, crucians to 1lb 8oz and chub to 3lb. For anglers who enjoy their caster fishing there is also an excellent head of roach and rudd to just under 3lb.
Barford Top Lake (15 pegs) – Established in 1989 and with its own car park, Top Lake is stocked similarly to the Match Lake and has a varied mixture of species. At 10-12ft it is one of the deepest lakes on the complex with 2-3ft down the margins. This lake provides quite a sociable and friendly environment as all anglers can be seen and heard from each peg! Pegs 1–9 are also easily accessible for wheelchair users.
Barford Match Lake (32 pegs) – One of the most popular lakes at the main Barford Lakes complex and used solely for competitive match fishing. It was dug way back in 1981 and extended in 1989. A mixed lake with carp from 5-7lb dominant but running up to 12lb+. There is also a good head of chub, roach, rudd, crucians, tench and skimmer bream. It is 11ft in the centre and about 6ft at its shallowest end, with 2ft to 3ft down the margins which offer excellent cover on most pegs.
Barford Training Lake (7/8 pegs) – The starter lake at the main Barford Lakes venue. A small lake with six pegs on one side and a wide double swim at one end. Primarily used as a training venue for demonstrating basic angling techniques to new anglers, this lake is also available to fish on a general day ticket. Anglers learning to fish can buy a ticket for this lake for a nominal fee of £2.50. The lake averages 4ft and is well stocked with small carp, brown goldfish, roach and rudd.
Colton Lake (40 pegs) – Found at Colton on the outskirts of Norwich and a 5-minute drive from the main Barford Lakes complex. It is about two acres in size used solely as a match venue. It holds a large stock of 6-8lb carp with some 15lb+ beasts for added fun!
Railway Lake (62 pegs) – The main venue at the Railway Lakes complex in Thuxton. It was originally dug by the previous owner as a water ski-ing lake. It holds carp to 3lb+, tench to 5lb and some good bream to 8lb – although they have proven to be very elusive. The lake is also teeming with silverfish and 30lb+ catches of only silvers are quite possible. There is also the odd double figure carp present from the original stock. The whole of the lake can be driven around, although anglers are requested to park in the two car parks provided.
Willow Lake (35 pegs) – Situated on the Railway Lakes complex in Thuxton, Willow is a banana-shaped lake that was dug in 2001 and lies parallel with Railway Lake. The lake is well stocked, mainly with carp ranging between 2-10lb.
Abbey Waters (30 pegs) – Located on the outskirts of Old Buckenham in Norfolk, and a 25-minute drive from the main Barford Lakes complex. This triangular shaped lake averages at 6ft deep and is full of roach, rudd, tench to 5lb and carp in the 5-6lb range with some reaching 12lb.
Species: Carp, F1s, bream, chub, crucian carp, tench, golden tench, orfe, chub, roach, rudd and perch
Extra Information:
Well-stocked tackle and bait shop
Hot and cold refreshments and confectionary
Rod hire service
Ladies, gentlemans and disabled toilets
Portakabins for match anglers
Coaching and training available
Day Ticket Prices:
Adults (Summer): £8
Adults (Winter): £7
Juniors: £6.00
Beginners Session (Training Lake only): £2.50
Midweek OAP & Registered Disabled: £7
Family Ticket (2x adults and 2x under 18s sharing two swims): £20
Peg Share (1x adult and 1x under 18 fishing same swim): £10
Rules: Please consult the fishery
---
PLEASE NOTE: The above information is subject to change. Please contact the fishery for the most up to date prices, opening times, rules and other information.
Contact Details
Address:
Chapel Street
Barford
Norwich
Norfolk
NR9 4BJ
Telephone: 01603 759624
Website: www.barfordlakes.com