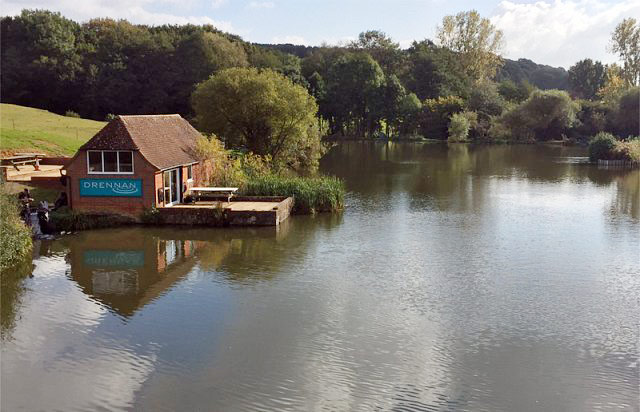 Set in a picturesque valley in the village of Great Brickhill, a ten-minute drive from Milton Keynes, Alders Farm Fishery offers exceptional fishing for the match, specimen and pleasure angler alike.
The six spring-fed lakes cover a total of 12.5 acres and offer a full variety of sport. As a direct result of the mineral-rich springs, the venue has built a reputation of producing bumper fish to 30lb+ and bulging 100lb+ match weights are often possible, even in the depths of winter.
The staff at Alders Farm are a dedicated team of fish and water quality experts who are there all year round, making sure that the fish are healthy and happy. Expert fishermen are on site for everything from a few hints and tips  to a proper lesson if you're a beginner or wanting to hone your skills.
There is constant maintenance being done to keep the surroundings looking their best and all pegs and paths are up to scratch all year round. The complex consists of three main lakes (Pines, Oak and Ash), which are all over an acre in size, plus three small ponds (Pump, Mylo and Wood) where you can catch a few fish while enjoying the magnificent countryside, wildlife and views.
Day tickets are also always available, as Alders Farm are keen to ensure there are always plenty of pegs reserved for anglers wanting a relaxing day's fishing.
Lakes:
Pines – A quiet and attractive lake, nestled in the trees, which offers lots of variety, with carp to 8lb, bream to 7lb and tench to 8lb along with plenty of smaller silverfish.
Oak – This specimen lake is 3.5 acres and full of untapped potential. In mid-February 2015 this beautiful lake was netted and the vast shoals of silverfish and smaller carp were removed. There is now solely 10lb+ carp living here waiting for you to hunt them down!
Ash – One of the finest match lakes in the UK with 30 generous pegs. This ensures there are so many methods you can employ to catch the lake's hard-fighting carp. A popular lake for club and open matches with summer bagging weights pushing 300lb and 100lb still possible in the depths of winter.
Mylo – This little pond has six intimate pegs and is an ideal place for beginners, with lots of small carp from 2-4lb to keep you busy.
Pump – A short walk from the the Pumphouse Cafe, this 14m wide lake is filled with 3-6lb carp and rudd.
Wood – Similar to Pump Lake but slightly wider at 20m in areas. It is well stocked with 3-8lb carp and is a particular favourite amongst match anglers, especially in winter.
Species: Carp, tench, bream, roach, rudd and perch
Extra Information:
Well-stocked tackle and bait shop
Pumphouse lakeside cafe
Caravans and camper vans accepted all year round with toilets and electric points available
Night fishing is available on a members only basis
Day Ticket Prices:
Day ticket: £9
Specimen dawn 'til dusk ticket: £16

Rules: Please consult the fishery
---
PLEASE NOTE: The above information is subject to change. Please contact the fishery for the most up to date prices, opening times, rules and other information.
Contact Details:
Address:
Alders Farm Fishery
Ivy Lane
Milton Keynes
MK17 9AH
Telephone: 01525 261713
Website: www.aldersfarm.com