Countless fish have been caught on Drennan Pop Ups since they were launched. These highly visible, flavour-packed hook baits are simply brilliant!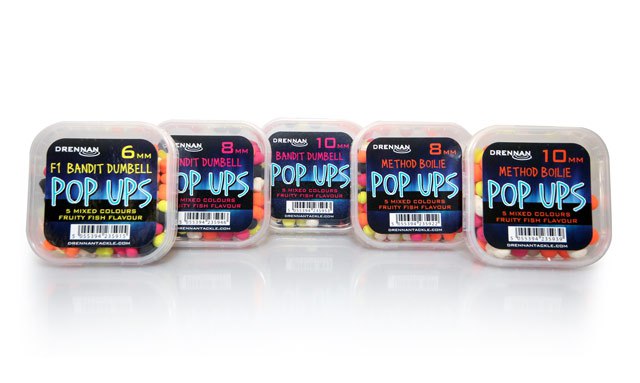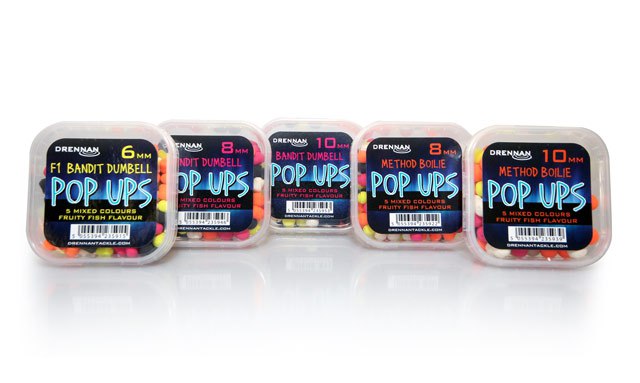 Unlike most other pop ups on the market, you get bright orange, pink and yellow hook baits, PLUS white AND black in each tub. With five distinct colours in a single tub, you have even more scope for experimentation!
Bandit Dumbell Pop Ups are barrel shaped and the Method Boilie Pop Ups are spherical. Each is available in 8mm and 10mm sizes, which are ideal for all sizes of carp. Smaller 6mm F1 Bandit Dumbells are also available. These have proved particularly effective, not just for smaller carp and F1s, but also for extra cautious larger specimens.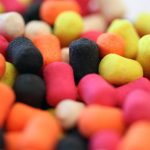 Pop Ups are designed to be mounted on a hair rig, using either a latex bait band or a Pushstop to hold them in place. They are really effective when fished on a short (3in to 4in) hooklength in conjunction with a Method Feeder or Pellet Feeder setup. Alternatively, try presenting them on a much longer (10in to 2ft+) hooklength at varying depths using a bomb setup.
A specially developed Fruity Fish flavour also ensures that each hook bait has optimum attraction. The sheer numbers of fish that have been caught with Drennan Pop Ups is testament to this!
The Drennan Pop Ups Range:
8mm Method Boilie Pop Ups
10mm Method Boilie Pop Ups
6mm F1 Bandit Dumbell Pop Ups
8mm Bandit Dumbell Pop Ups
10mm Bandit Dumbell Pop Ups