Dean Barlow reflects on a great time competing in last week's Ireland Feederfest tournament.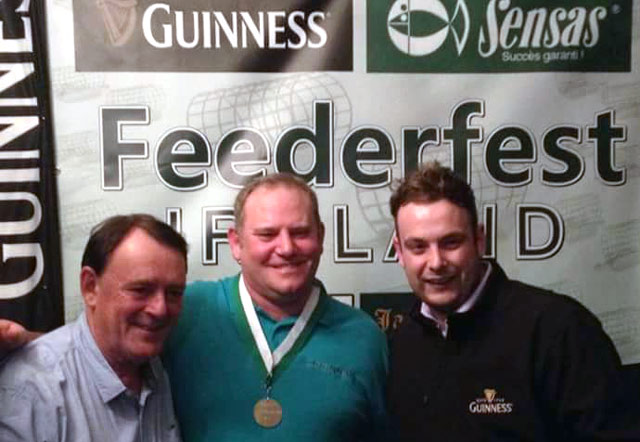 I have just got back from the first Feederfest held on Inniscarra Lake in County Cork, Ireland. The place holds fond memories as this is where the Preston Innovations England Feeder team won our first gold medal, so I was looking forward to getting back on the bank. The competition was over five days with 100 of the finest feeder anglers from Europe competing. Their were five sections on a rotation basis, so getting the right rotation was very important on a festival where combined weight counts.
Day One saw me on C Section of the Greenway. I was in good company with fellow England man Mick Vials next peg. I decided on a two-line approach; one short at 22m, which was a count of eight with a 1oz square lead, and the other at 32m with a count of 12. I had a bit third chuck and caught roach for 3.5 hours before it just wend dead. I moved out to the longer swim and cauget odd fish there until the end of the match. I ended up with 10.56kg to win the zone and finish 3rd overall on the day. A nice start!
Day Two I drew an end peg on Rooves Bay. There's only five pegs on this bit and I had Neil Mazurek on the other end peg. The depth was different and so I settled on one line at 27m as there was no depth change. It was 45 minutes before I had a bite, but the lads at the other end were catching from the start. I did have a good mid-match run and thought it would get better but it didn't and the fish disappeared. I finished with 7.78kg with Neil winning the section with 9kg and there was an 8kg next peg.
Day Three I drew 103 on the concrete, a place that I'd never seen before. I was in good company again, as next peg was good friend and Irish international Francis McGoldrick. This time I went for a two-line approach at 16m and 30m. Same as the day before there wasn't much happening early on, while on the far end peg Dutch international Henk Roskam was catching a roach a chuck. A change to the longer line produced a skimmer so from then on it was a case of rotating lines and nicking fish. I ended up with 9.24kg to just pip Henk for the section.
Day Four was make-or-break day. A and B sections were the poorest and peggiest sections, so a good draw was needed. I fancied pegs 1 to 6 as they had been solid all week. I pulled out peg 15, which is an end peg, but with only 6kg off it the day before I feared the worst. I plumbed up and the depth was good at 16m and I had a bite nearly every chuck. I even came back to 13m at one point to catch faster! I finished with 11.56kg to win the zone and section and topped the overall leaderboard.
Day Five was always going to be about the draw as this was the worst section of all. Pegs 41-46 were the best pegs on previous days so when I drew 26 my heart sank – but there was still a job to do! This was again an end peg but probably the worst end peg in the competition and with second-placed Neil Mazurek on end peg 46 and Steve Ringer going to a good section it was a damage limitations job! It was a slow day, casting around my peg trying to find some fish, but with a late burst of hybrids I put 6.06kg on the scales for a mini section win. As expected, Neil had 7kg and Steve did what he does best and bagged up with 13kg to take the victory. That left Neil 2nd overall and myself 3rd by just 700g!
Looking Back
A really enjoyable week catching an average of 20lb of roach a day is not to be sniffed at!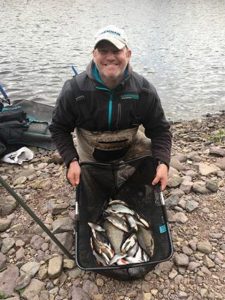 Tackle wise, I used 11ft and 12ft Acolyte Ultra Feeders with 1oz tips, which were perfect. A 4012 Precast reel loaded with 0.10mm Submerge braid and a short 2m 8lb leader with a short 2in feeder link completed the setup. Nisa plastic cages in 28g and mini Drennan Cage Feeders were used each day. Hooks were the ever-popular Kamasan B512 and B532 in size 10 tied to 0.15 Supplex Fluorocarbon.
My groundbait was Bait-Tech Pro Natural Dark and Bream with brown crumb and liquid molasses mixed on the damp side.
Breda at the Fountain House B&B looked after us, as per usual. This place is a bit of a lucky charm, as we stopped there when we won gold and with five of the England team finishing in the top eight I'll be booking in there again for next year!
A massive thanks to Tommy Lawton and his helpers for running the competition. They did a brilliant job! Also the sponsors, Guinness, Sensas and Duncan Lennox who supplied the beautiful solid silver trophies. Tight lines!