The three-day Evesham Angling Festival is the biggest angling event, spectator wise, on the river fishing calendar and is hosted every year over the bank holiday weekend in August on the banks of the Warwickshire Avon.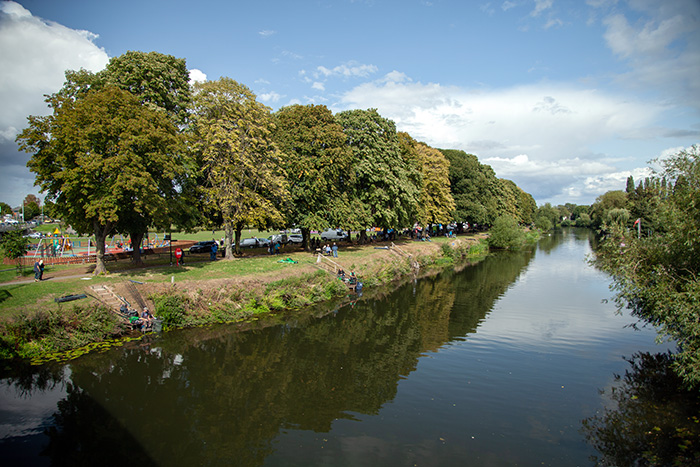 With very little rain during the run-up to the festival, the river was relatively low and clear which would make the fishing very challenging.
The weekend features the finals of three top events – The Wychavon Championship on Saturday 25th, The Evesham Championship on Sunday and the Team Championship on the Monday.
---
Saturday 25th – Wychavon Championship
With bloodworm and joker only allowed on the Sunday and Monday, it was always going to be a struggle for competitors in the clear conditions.
Both first and second places were secured with bream caught from the end of the match length, giving their weights a significant lead over the rest of the field.
Click here to view the photographs from the Wychavon Championship
Results
1st: Howard Kaye – 15lb 7oz (Peg 86)
2nd: Andy Richings – 12lb 11oz (Peg 85)
3rd: Barry Carr – 6lb 15oz (Peg 35)
4th: Paul Jackson – 5lb 8oz (Peg 52)
5th: Paul Johnson – 5lb 3oz (Peg 36)
Sections
1-12: Brian Powell – 4lb 9oz (Peg 1)
13-22: Darren Scott – 4lb 9oz (Peg 22)
23-33: Ed Warren – 2lb 12oz (Peg 23)
35-46: Glenn Robinson – 3lb 1oz (Peg 34)
47-56: Kane Woodfield – 2lb 9oz (Peg 50)
57-66: Darren Bickerton – 3lb 7oz (Peg 63)
67-77: Sean Ashby – 2lb 2oz (Peg 66)
78-87: Ian Shepherd – 2lb 15oz (Peg 82)
---
Sunday 26th – Evesham Championship
With lots of rain forecast for Sunday and with bloodworm and joker allowed, it was always going to be a completely different match compared to Saturday.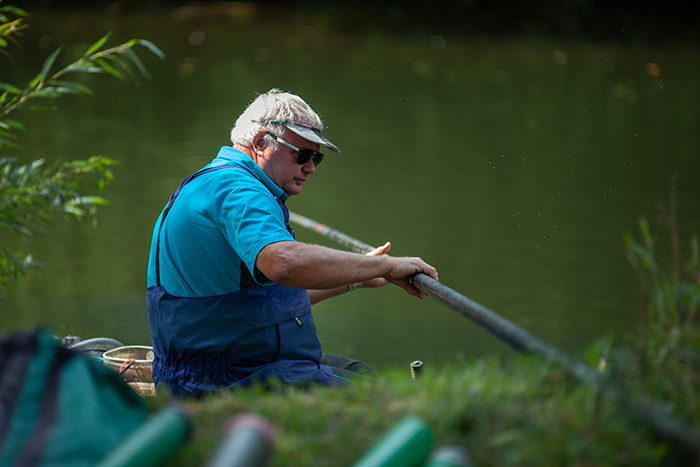 Overall the match weights improved and with the significant rainfall, the storm drains began to flush the runoff water into the river. The weather certainly spurred the fish into feeding and despite pike troubles, Mark Downes managed a decent net of bream, skimmers and roach on the feeder and pole line from peg 1 to comfortably take first place with 15lb 3oz.
Results
1st: Mark Downes – 15lb 3oz (Peg 1)
2nd: Sam Wildsmith – 12lb 4oz (Peg 5)
3rd: Des Ship – 10lb 11oz (Peg 10)
4th: Sean Ashby – 8lb 10oz (Peg 36)
5th: Steve Hemingray – 8lb 9oz (Peg 35) & Jim Broke – 8lb 9oz (Peg 52)
Sections
1-12: Lee Edwards – 6lb 7oz (Peg 7)
13-22: Steve Maher – 9lb 9oz (Peg 15)
23-33: Ian Shepard – 8lb 8oz (Peg 33)
35-46: Dean Barlow – 6lb 6oz (Peg 44)
47-56: Ian Didcote – 7lb 6oz (Peg 51)
57-66: Aimon Pickering – 2lb 3oz (Peg 61)
67-77: Andrew Murphy – 8lb 6oz (Peg 75)
78-87: Matt Parkin – 7lb 12oz (Peg 84)
---
Monday 27th – Team Championship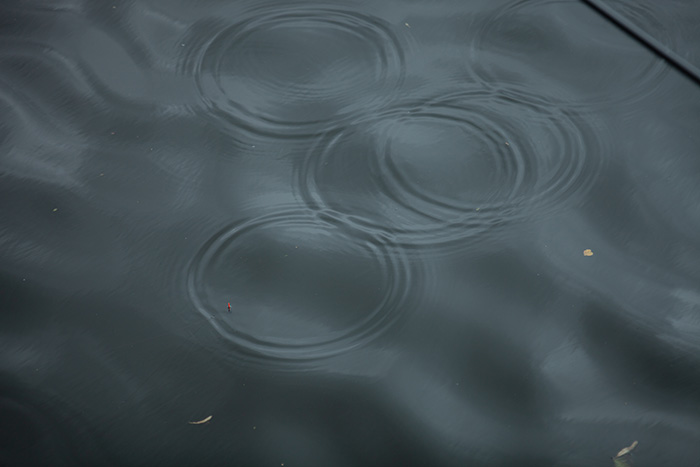 In this match, sixteen teams went head to head to compete for a chance of winning the prestigious title.
Shakespeare Superteam took the win with 61 points, just one point clear of rivals Sensas Starlets Black and third-placed Drennan Oxford who narrowly missed out on second-place on overall weight.
Individual winner Cameron Hughes was rewarded with not one, but two barbel in the last hour of the match after switching to the feeder. These two bonus fish put him comfortably into the lead securing the team victory in the process.
Team Results
1st: Shakespeare Superteam – 61 Points (27lb 4oz)
2nd: Sensas Starlets Black – 60 Points (38lb 2oz)
3rd: Drennan Oxford – 60 Points (24lb 3oz)
4th: Daiwa Dorking – 58 Points (26lb 12oz)
5th: Drennan Leicester – 58 Points (25lb 12oz)
6th: Drennan Barnsley Blacks – 53 Points (23lb)
7th: Matrix Dynamiter Trentmen –  52 Points (22lb 14oz)
8th: Sensas North – 48 Points (20lb10oz)
9th: Daiwa Gordon League – 45 Points (20lb 12oz)
10th: Sensas Mark One – 37 Points (16lb 10oz)
11th: Sensas Starlets Blue  – 35 Points (15lb 12oz)
12th: Marukyu – 35 Points (14lb 4oz)
13th: Drennan Droitwich – 25 Points (10lb 13oz)
14th: Sensas Black Country – 23 Points (10lb 8oz)
15th: Sensas Nomads – 23 Points (9lb 8oz)
16th: Mosella UK – 13 Points (5lb 2oz)
Individual Winners
1st: Cameron Hughes – 18lb 14oz (Sensas Starlets Black)
2nd: Simon Willsmore – 10lb 6oz (Daiwa Dorking)
3rd: Andy Murphy – 8lb 2oz (Shakespeare Superteam)