After a week's long hard practise in blistering temperatures up to 39 degrees the Drennan England U25s came home with a stunning Silver Team medal and were very unlucky not to scoop gold.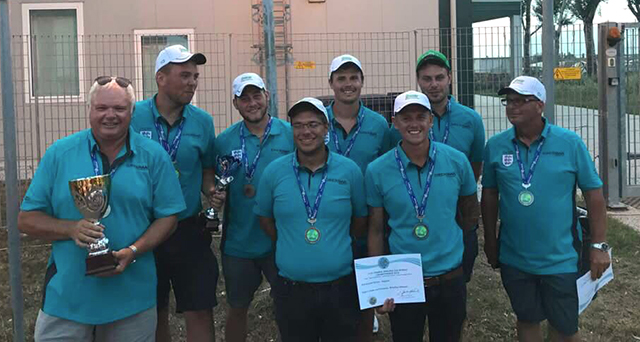 Team captain, Mark Downes, runs through the two days:
This years event was held on the Cavo Lama Canal in Modena, Italy and tactics were very technical. The target species were small carp and carrassio so we started by feeding five small balls of groundbait (Sensas Fine Carp and Sensas Carp Black) with dead maggots and a touch of joker at around 6m. We also put two balls of sticky maggots and black gravel on the same line. Then just 1/2 meter further out, we fed a full pot of hempseed and a few grains of sweetcorn.
We then fed our two litres of maggots in four litres of black gravel in small balls, all thrown onto the 6m line, and concentrated our fishing over the hempseed with maggot on the hook. Maggot was best for the small 35g carp and bloodworm was best for the carrassio. You had to aim for around 180 to 240 fish.
Rory Jones and Alex Clements came back with perfect scores and Brad Gibbons and Tom Moretti brought our total to 18.5 points. Just 1.5 points behind Croatia yet only 3.5 points ahead of the favourites Italy and Hungary, with Germany also on 22 points and current World Champions France on 25.
---
Day two was the same again. We drew okay, but I was worried a little about Rory's peg as the end three pegs in section D were poor on the first day. Matt Barnet stepped in for Tom Moretti.
It was a tougher day for us. Alex was flying again only to be beaten by a late dutch carp of 3kg whilst the others all came back with 6's and 7's. Amazingly, our 22 point day 2 score was good enough for 2nd place on the day again.
We had done all of the hard work, clawed ahead of Croatia and went clear of Italy Hungary and Germany, only to find that the Dutch had put together just 8 points to move clear of the field.
Alex scooped individual bronze and that last minute Dutch carp not only cost Alex his second individual gold, but also the Drennan Team England top podium place. So Close!
---
Overall Results
Holland – 33 Points
Drennan – England  40.5 Points
Croatia – 45 Points
France – 48 Points
Italy – 49 Points
Individual Results
Lucien De Rade (Holland) – 2 Points
Romain Guerau (Belgium) – 3 Points (16.619 kg)
Alex Clements (England) – 3 Points (15.370kg)
---
Drennan Team England
Captain 1 – Mark Downes
Captain 2 – Darran Bickerton
Team
Rory Jones
Alex Clements
Matt Barnett
Tom Moretti
Conor Barlow
Brad Gibbons