Terrible weather failed to dent the catches on Day 2 of the Drennan Spring Festival at in-form Messingham Sands Fishery.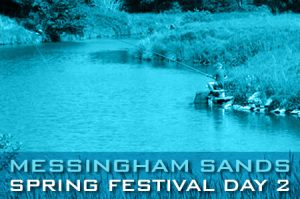 With overnight temperatures falling to -3ºC, a biting northerly wind, rain and hail to contend with, the conditions were reminiscent of the previous year's festival. Some suggested it should have moved to January when it is warmer!
Simon Gale did not let the weather get in the way of another lake win and maximum points for the second successive day. Fishing 11mm pellets shallow on a waggler he had around 25 carp for an excellent 161lb from peg 10 on the Swan Pond.
On the opposite bank, bemoaning their luck at drawing with the wind in their faces, Mark Lidgard and Simon Drayton had a ding-dong peg-for-peg battle. Ultimately it was Mark claiming the bragging rights. His 126lb 5oz was exactly 1lb more than Simon and good enough for second on the day.
The Islands Lake was won from peg 55 by Sean Holbroke with 107lb of carp.
Day 2 Result:
1st Simon Gale, Grimsby 161-11
2nd Mark Lidgard, Brigg 126-05
3rd Simon Drayton, Upton 125-05
4th Sean Holbroke, Barnsley107-13
Top 10 after two matches:
1st Simon Gale 2
2nd Kevin Johnson 5
3rd Don Hudson 7
4th Mark Lidgard 7
5th Steve Bingham 8
6th Jack Turner 8
7th Andy Bailey 8
8th Simon Drayton 9
9th Steve Ellis 10
10th Sean Holbroke 11