The top five all needed over 20lb of fish in the 10th round of the Drennan Silverfish League at Rycroft Fisheries.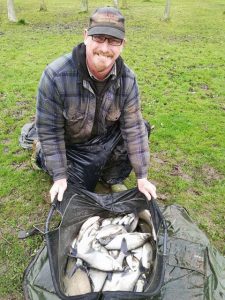 Sean Ashby consolidated his position at the top of the league with another class performance. The former World Champion drew peg 28 on Donno Lake and struggled on the long pole for the first 90 minutes before switching to a 5m line and an edge line down the rushes. Loose feeding casters with light, strung-out rigs he put together a nice net of quality roach and the odd good skimmer for a winning 30lb 14oz.
John Eccles is Sean's main challenger and kept up the pressure with the runner-up spot. He drew peg 3 on Carp Lake and caught a nice bag of skimmers on the long pole with dead maggots over groundbait for 28lb 9oz off.
In the league standings, Sean is still in front with 142lb 15oz, but John is not far behind on 125lb 9oz. With Sean having to miss the last match, John still has a chance to overtake him and win the league.