A slow start for many with bright sunshine but with a bit of chop on the water the fishing soon picked up.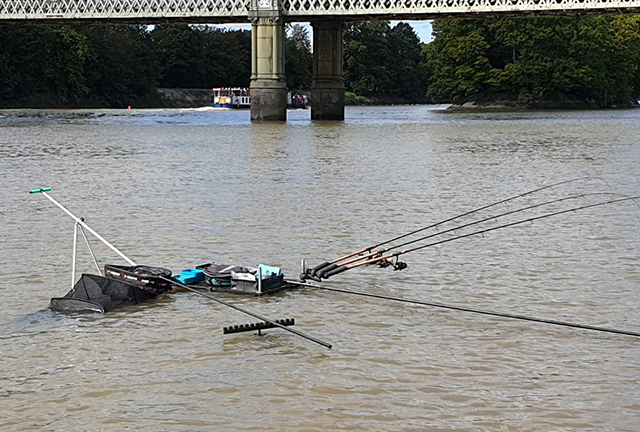 A normal setup for this match that involves moving with the tide so taking minimal equipment is very important
Fresh off the ferry from the World Pairs in Ireland, Drennan RAF members Richie Tomala, Mike Dalziel and Jono Smith made the annual journey into Central London to compete in the Angling Trust sponsored Tidefest on the 8th of September.
This match is somewhat of a novelty as it involves a huge 5-meter tide and the requirement to move further and further out into the river as the tide drops. In fact, by the end of the match you are usually stood in the middle of the river!
Having framed in previous years, Richie fancied his chances and was pleased when all three Drennan RAF memebrs drew the favoured "Strand-on-the-Green" stretch.
"Tidefest has been kind to me over the years but this was the 1st time I've drawn spot on; I really fancied my chances but knew that my team mates had also drawn really well at the start".
Richie drew peg 17 below Kew Railway Bridge whilst Mike and Jono drew above the Island at Kew Bridge on pegs 6 and 8 respectively. All three elected to attack the river in the same manner. Starting on a 3 oz tip on their Acolyte Distance Feeder rods with 50 Gram feeders. A conventional bream mix of Gold Pro and Brown Crumb with Worm, Caster and Red Maggot was all that was required. After a slow start for most, largely due to the bright sunshine and light winds, both Richie and Mike started to put a few fish together with Mike catching Skimmers whilst Richie appeared to have a few Roach in front of him.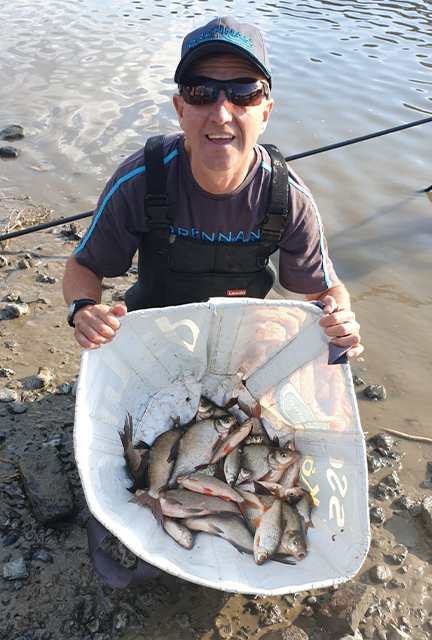 A mixed bag of Roach and Skimmers for Richie Tomala 
"The bites were savage and it took a while to work out how to hook them but a bolt rig and a change to a size 10 hook soon sorted it out!"
After a few hours, it was obvious that Richie and Mike were running away with the match and it would just be a battle between them for victory. As the tide dropped, a change to lighter tips and 30 Gram feeders was essential and eventually a drop to the conventional Acolyte Feeder rod was far more productive. In the last hour, both admitted to mid-double figures with Richie also starting to catch a few 1lb skimmers.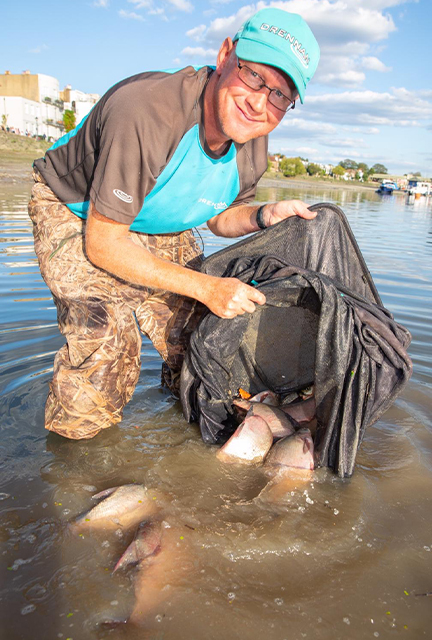 Mike Dalziel releasing his hard earned net of Skimmers
At the final whistle, everyone knew it was too close to call and would all come down to the scales. In the end, Mike took individual glory weighing in a lovey net of skimmers for 18lb 8oz whilst Richie was just behind with 17lb 8oz, mainly consisting of roach. The next in the field was Gordon Bullock with 10lb 14oz from the "Barnes" stretch with weights dropping fast after that. Presented with silver plates and hefty cheques by River legend and columnist Keith Arthur, both Richie and Mike were really pleased with the result.
"It's been a great day for Drennan RAF and an excellent result for Mike just pipping me for the victory; thoroughly well deserved".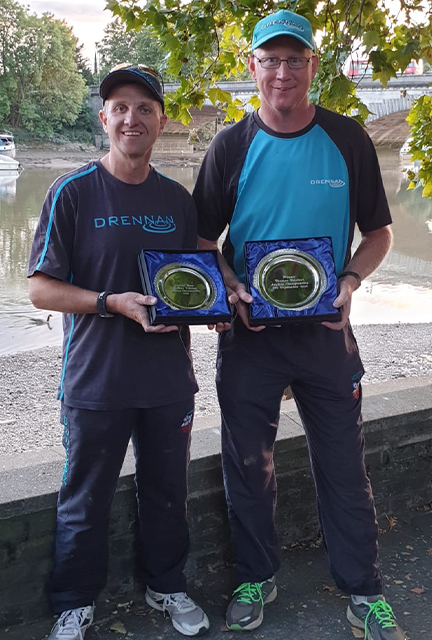 (Left) Ritchie Tomala and (Right) Mike Dalziel with their trophies 
1st – Michael Dalziel    – 18lb 8oz.  Strand on the Green
2nd – Ritchie Tomala   – 17lb 8oz.  Strand on the Green
3rd  – Gordon Bullock  – 10lb 14oz. Barnes