Drennan products have won four major categories in the Pole Fishing Tackle Awards, including Best Carp/Power Pole, Best Pole Floats, Best Luggage and Most Innovative Product Of The Year!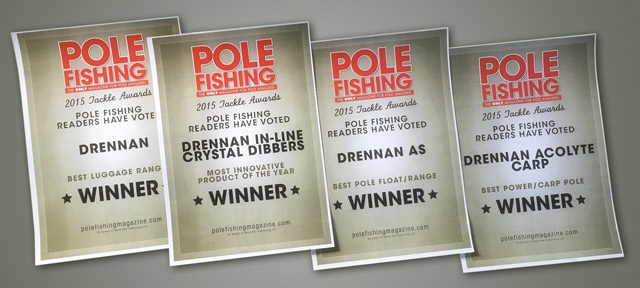 These annual awards are decided by the discerning readers of Pole Fishing magazine and once again we are extremely grateful to all of the anglers out there for their votes.
BEST POWER/CARP POLE – Drennan Acolyte Carp
The feature-packed Drennan Acolyte Carp pole has now won multiple awards in the angling press! It has the perfect blend of strength and balance, plus an exceptional spares package. It is absolutely perfect for commercial fisheries and has been responsible for countless bags of quality fish up and down the country.

BEST POLE FLOATS – Drennan AS Pole Floats
These exceptional quality floats have been designed in conjunction with five times World Champion Alan Scotthorne and built and hand assembled in our own factories. The original AS1, AS2, AS3 and AS4 designs have recently been joined by the AS5 'Pencil'. Several exciting new additions are also in the pipelines, so watch this space!

BEST LUGGAGE – Drennan Luggage
The comprehensive Drennan Luggage family includes holdalls, carryalls, rod cases, sleeves, cool bags and accessories in various sizes to suit individual needs. It's stylish, rugged, hardwearing and extremely practical – everything an angler demands!

MOST INNOVATIVE PRODUCT OF THE YEAR – In-Line Crystal Dibbers
Another multiple-award-winning product! The In-Line Crystal Dibber is designed and manufactured in our own factories using our own unique blow-moulding technology. This float is extremely buoyant, ultra-tough and with that all-important in-line construction that makes it so streamlined and difficult to tangle. Perfect for shallow work and margin fishing!