This was the final qualifier before the final on the 22nd of September. The river is still in great shape and looking promising for the final.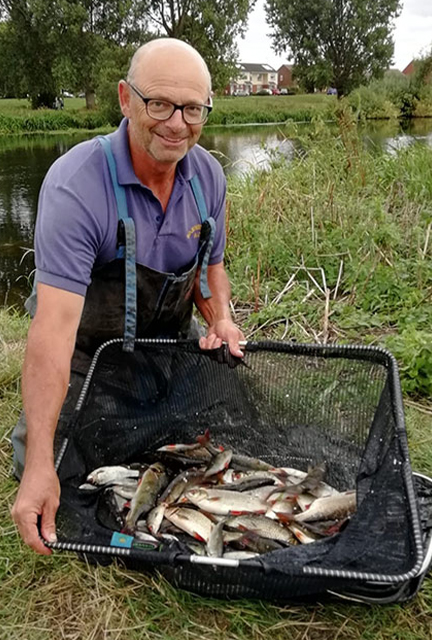 Nick West with a previous Trent caught net of red fins, Dace and Perch
This was the last qualifier that sees 34 anglers go through to the grand final on the 22nd of September which promises to be a cracker! With the river low and crystal clear we had a great match with double figures of Roach, Dace and Perch spread through out the length. Leading the way was ever consistent Nigel Bull drawn on Municipal length peg 23. Nigel fished 13m of pole feeding bronze maggots over groundbait for mostly Roach and Dace weighing 15lb 13oz.
Second just a few pegs downstream of the winner was Roger Smith fishing more conventional river tactics. He swapped between the stick float and the waggler with bronze maggots for 15lb 4oz of mostly Roach.
Third off broadholme island was Nick West, starting on a whip amongst the weeds he caught mostly Perch before switching to a waggler for Roach for 14lb 8oz. This was also a charity match which raised over £1,500 for Mcmillan cancer care, a great effort by all concerned.
Individual:
1st N Bull Starlets 15.13.0
2nd R Smith Burton Mutual 15.4.0
3rd N West Matchman Supplies 14.8.0
4th M Hawksworth Chesterfield 14.4.0
Sections:
A. S Merry 13.8.0
B. W Truman 13.12.0
C. B Rigby 8.4.0
D. T Kinson 13.7.0
E. R Quinn 13.5.0
F. R Reynolds 10.10.0
G. P Bick 10.12.0
H. D Jones 9.8.0
I. A White 10.4.0
J. M Parker 5.2.0
K. T Moroz 11.8.0
Qualifiers:
M Hawksworth, T Kinson, T Moroz, H Clapham, J Marcer, C Buckingham.
Final Qualifiers 2019:
Dave Petch (Last years winner)
Wayne Swinscoe
Rob Quinn
Sam Merry
Nigel Bull
Graham Barry
Tony Moreton
Mark Parker
Ian Shaw
Brian Rigby
Roger Smith
Denis Armstrong
Wayne Truman
Pete Salt
Tony Marshall
Dave Lewis
Fred Prudman
John Moroz
Steve Winter
Ant White
Nick West
John Urrity
Robert Casterton
Paul Newell
Dave Jones
Reg Whiston
Pete Hamilton
Colin Talbot
Mark Halksworth
Tim Kinson
Bucko
Terry Moroz
Harvey Clapham
Jim Marcer
Match winner Nigel Bull with Coors organiser Tony Vandome