Stu Palser scored back-to-back match wins at Makins Fishery last weekend using Margin Crystal pole floats.


The commercial fishery wizard's first ever outing with the floats saw him win the final round of the Notts AA League with 71lb of carp.
"I had a nice draw, peg 18 on my favourite Derwent Pool. A hard first few hours saw me sneak four carp and a few skimmers on meat across and two down the track, but I caught most of my fish long up the edge on my new and superb floats. All on dead reds. I fed about three pints in last two hours."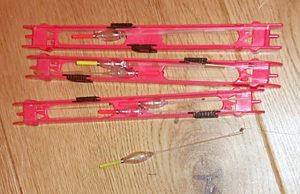 Stu's winning rig was a 0.4g Marmargin Crystal on 0.17mm NGauge to a size 16 Guru Margin and black Hydro.
That result saw him win the league with a perfect eight section wins! The very next day Stu won the final round of the Makins Spring League with 93lb, to also secure the league honours.
"I had a great start to the day after drawing peg 10 on Snake, a peg I always wanted to draw. Once again I had a slow start but I started potting dead maggots to the right-hand island after two hours and caught pretty well there until the end, plus a few stockies closer in.
"The best rig was a 0.3g Drennan Margin Crystal on similar gear to the day before. This was shotted with a bulk of Stotz 10 inches from the hook. Pretty crude, but I had a big bunch of six to eight maggots on the hook!"
On the new floats, Stu commented: "The tips are spot on, but being clear is the big one for me. I think they help massively. They are the only float for my far bank and margins now. I wish I had thought of them!"