Saturday saw the Division 1 National taking place on the Air and Calder and New Junction canal and with heavy rain leading up to the event and then bright sunshine on the day both canals were expected to fish hard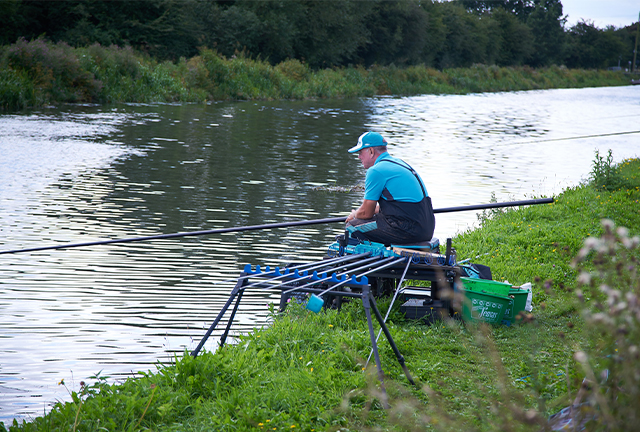 Alan Scotthorne during the RAF teams of 4 match getting in some valuable practise 
Drennan Barnsley Blacks team captain Glenn Lawrence tells us about the teams triumph,
Although the venue is relatively close for the majority of the team the team spend most of their time fishing other events across the country, Only recently returning from Croatia on the World Club Championships. We managed to get a team into the teams of 4 event and had other anglers within the team fill in for other teams that were short. This aloud us to understand how the venue was acting and changing leading up to the event with the extra pressure from anglers practising. This would in turn help us to finalise a team plan for both venues.
The weather during the week of the event wasn't looking promising with rain forecast almost every day which would in no doubt make the fishing hard. With the extra rain water entering the venue we knew that this would lean towards being a small fish match. However, you would still have to give yourself a chance in areas where there were known to be bigger species such as Bream, Eels and Chub.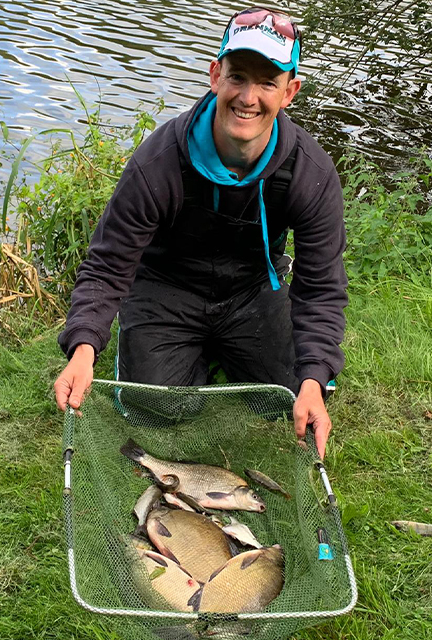 Lee Kerry and his net of fish from C section on the New Junction canal
Our approach was fairly simple with 3 small fish lines and a big fish line which was either a long pole line or a feeder depending on the wind. The small fish lines in most pegs were fished on a top kit, top 4 and top 5 from the bank. It was very common that you would have a good depth on the top 5 line which was between 6-10ft of water. We also found a lot of fish closer in that were probably taking shelter in the rocks and weed on the bottom. Unless we had pegs that we knew had a very good chance of big fish we planned to all start on the small fish lines catching what we could quickly. When you caught what you could from one spot you either re fed or just left it and moved further out to continue putting fish into the net.
Rigs involved 3 droppers and a bulk for the silverfish rigs with some strung out rigs also tied onto 0.10 mainline and fished on 0.07 and 0.08 hooklengths with fine wire hooks. Floats from 0.2gr to 1gr were fished and the rigs were either on a solid No3 or No4 elastic. The big fish rigs had two droppers and a bulk fished on a solid No6 elastic or heavier if chub were present. The bait was simple and we had squatts, pinkies, maggots, casters, hemp, worm and lobworms. We fished an active roach mix on our small fish lines and a fishmeal mix on our feeder line if setup.
Rotating was the plan by picking fish up from each spot and then moving to the next. We mainly weighed in Roach and Perch with the odd angler catching Bream. When the boys returned back to the results their weights were so impressive I felt we had a fantastic chance of a top 3 finish. On the Air and Calder we had 2 x 10kg weights, 2 x 6kg and 1 x 5kg and on the New junction we had 1 x 5.5kg, 3 x 4kg and 1 x 2kg. We kept a close eye on the results that were being published online which we kept moving between the top 3 teams as results were coming in and the points were changing. It wasn't long after that our position at the top was made final and we become the Division 1 National Champions.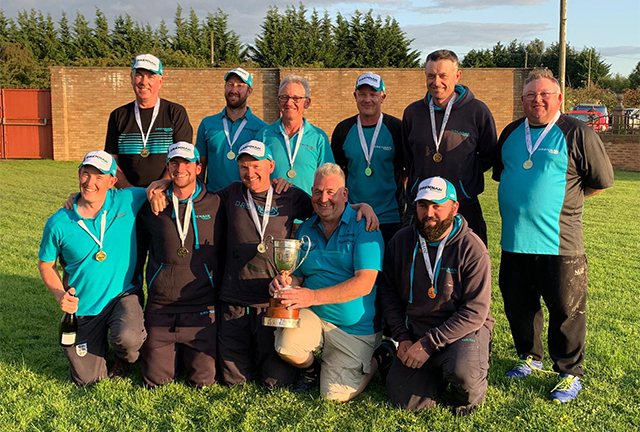 Drennan Barnsley Blacks making it their 4th Division 1 National win in 6 years!
Drennan Oxford also put in a fantastic display to finish 3rd overall, Mick Denton team captain explains to us the build to the competition and match,
Up to 3 weeks ago we hadn't seen this venue as a team. We had sorted out a practice weekend, booked in on the Friday RAF National and the Individual National to give us a chance to sort out a team plan. We decided early to where our anglers would be placed so that the information wasn't getting crossed between the two venues. We sourced as much information from local anglers that we knew who fished the venue regularly to get an overview of what was required.
The first practice weekend went well with the team catching fish on various methods. We saw this as a positive and set our team plans around attacking both venues. To go up against the excellent local teams we decided to go with a very positive approach. The following Friday was the RAF National teams of 4, we put 2 teams in and I walked the A&C. Our approach worked well with the teams coming first and second, that gave us loads of confidence going into the Division 1 National.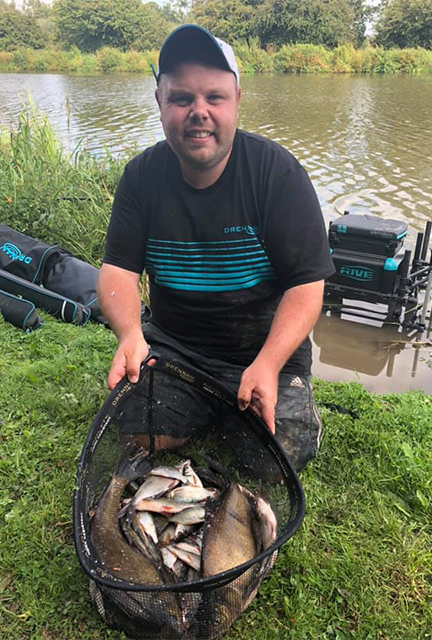 A fantastic net for Dan Varney from permanent peg 348 on the New Junction canal 
We talked things through as two groups to fine tune our approach, we never got hung up on pegs or areas as we simply didn't know the venue to be able to fine tune our approach for individual areas. We took a very simplistic attacking plan to the bank. To fish the feeder for half an hour was discussed and we thought unless you were on bream it would be half an hour wasted. Our main attack was the 5/6 section line where we would fish for Roach, we cupped 6 balls on this line and a few balls on the long line with fishmeal added. We wanted to bring the Roach into our main 5/6 section line so we didn't feed heavy on the other two lines. Over the top of this line we loose fead hemp and squatts or pinkie depending on tow and conditions. We were mindful that hemp had been working in practise but the weather had changed. With the heavy rain the previous day we decided it would be a squatt or pinkie day as a team to give us a consistent approach. Heavy feeding and through the water rigs at varied depths kept the roach coming for most of the team. In the indifferent areas we still felt you needed to feed aggressively to try and draw some fish in.
After the match the results from sections started to arrive and our hopes of doing well increased. The approach had worked again and even a couple of our anglers caught on the feeder and did very well doing so. It was a very good consistent team performance and the canals fished well as we hoped, in fact one of the best Nationals in recent years.
Well done to Barnsley Blacks in a fantastic team performance winning the National and Hull & District for coming second. The teams thanks Peter Drennan for his continued sponsorship of the team, and all the squad who help build the team. It's never all about the people on the bank on the day but the squad who fish all events to keep us interested week in week out.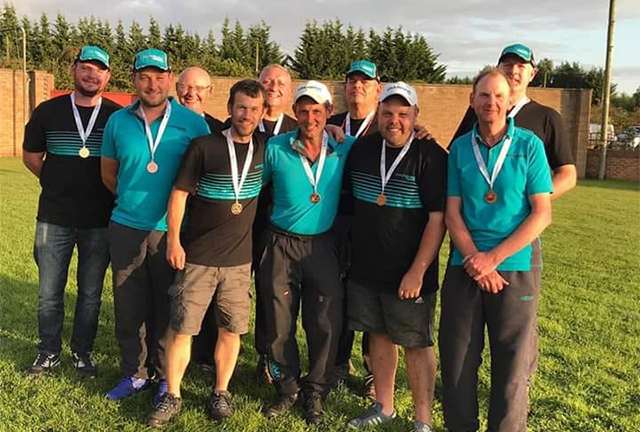 A long trek for Drennan Oxford but ecstatic with a 3rd place finish