Feeder ace Dean Barlow reflects on FeederFest held on Inniscarra Lake in Ireland.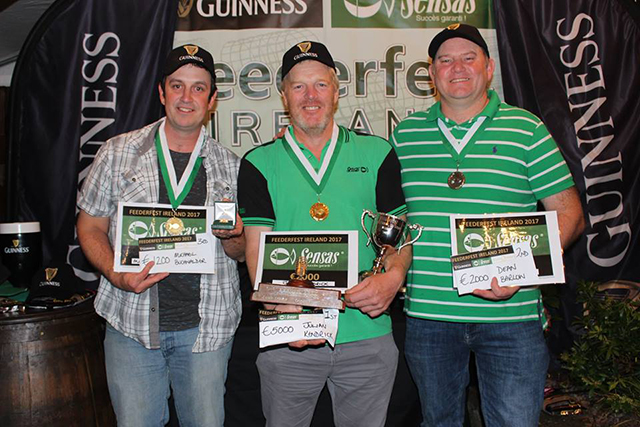 It was back to one of my favourite venues on the 23rd October, Inniscarra lake in Coachford Co. Cork Ireland for the 2nd Feederfest. Last year I managed 3rd place so was hoping for another good performance. The festival is held over five days with overall weight deciding the winner.
My trip started with cancelled and late running ferry crossings due to the bad weather. I didn't get to my peg on the Sunday open match until 2 hours into the match! Although, I did manage to catch 3kg in that short period of time, so managed to have a little practice.
On the first day, I drew peg 14, on rotation A, which is on the greenway, not very exciting as the early pegs 1,2,3 and peg 7 are the dolly pegs in the section. I caught some decent roach at 18m and five skimmers on a long line on maggot to weigh 6.340kg which was enough for 3rd in the zone.
Day 2 put me on B32 which is in the middle of the hardest section so the plan was to fish the same as the day before, but after 45 minutes and only 8 roach in the net, I had to make some changes. I dropped on to my skimmer line which was at 20m and had a hand size fish first cast, I then persevered with that line with the odd cast short to give it a rest and ended up with 14 roach, 17 skimmers and 3 hybrids for 6.240kg. All of the skimmers falling to worm and the hybrids to corn.
Day 3 was make or break day, as this is a split section with 6 pegs on the favoured Rooves bay. Thankfully, I was lucky enough to draw on the end peg there, which is the same peg I drew last year and never had a bite for over an hour! But, today was different, there was plenty of fish feeding. I had 186 fish, mostly roach including a beautiful wild brown trout which went straight back, to weigh 13.500kg. I caught my fish at 15m and 21m all on single maggot. This weight pushed me up the leaderboard into 3rd place.
Day 4 was a split section between the Graveyard and the Garden Centre, I drew peg 71 on the Graveyard section which is an absolute dolly peg so it was game on! I knew I had to catch a good weight to be in with a chance of a top placing. So I decided not to target roach and only set up two Acolyte 11ft Plus rods with 1oz tips. One to fish at 16m and the other at 20m. I had a good match catching 190 fish overall for 15.620kg. I felt I had a poor hour in the middle when the lake started to flow and the fish disappeared but thankfully they came back eventually. That weight was the best of the day and helped me move into second place overall.
Day 5, with two sections on the Innislena concrete and one section on the dreaded pumphouse, I drew end peg 95 on the first concrete. With 4.5kg being the top weight off that peg all week, I wasn't too happy as two of the top five were going to D section, so I would need more than that if I was to stay in the running! I probably fished my best match of the week, catching 76 roach short on maggot and three good Hybrids in the last 20 minutes on corn which gave me 6.960kg. That was enough to maintain my second place overall, with Michael Buchwalder in third by just 80 grams, but 2kg behind the winner Julian Kendrick.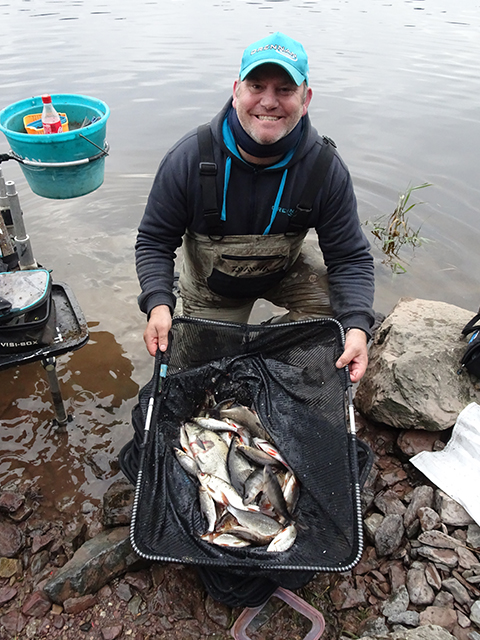 This kind of fishing is pretty extreme so your gear has to be right, with the water being deep you need heavy feeders to get to the bottom quickly. I used my Acolyte Plus rods, the 11ft with a 1oz tip for roach fishing and the 12ft version with a 1.5oz tip for skimmer and hybrids.
Feeder wise I used a 44-gram cage feeder and small window feeders, carrying a groundbait mix of, brown crumb, Frenzied Hempseed in Match Black, Black Lake and Gros Gardons. At the business end, I used a trusty Kamasan B512 hook in size 10 tied to 0.17 and 0.19 Supplex Fluorocarbon.
Well that the end of my Irish campaign for this year which hasn't been a bad one!
I'd like to thank the sponsors of the event Guinness, Sensas Ireland and Duncan Lennox for their generous support. Tommy Lawton, Mike Stone and Helen Rainsford who ran the perfect festival and finally the Fountain House B&B whos hospitality is second to none and always make you feel welcome.