This colossal 12lb 3oz tench is the jewel in the crown of what's possibly the greatest catch of the species ever recorded in the UK.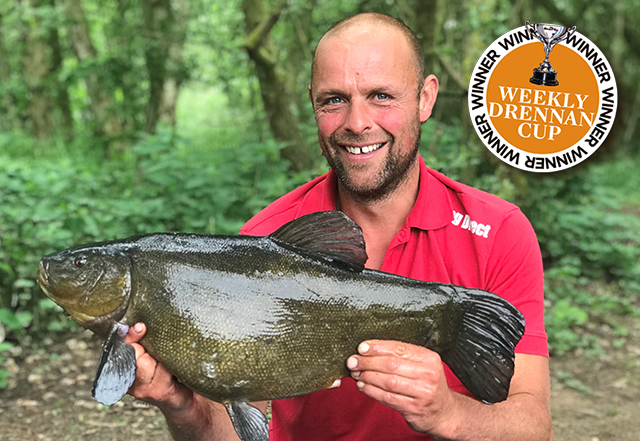 It was banked by Angling Direct-backed angler Darryn Stolworthy during a week-long trip to Norfolk's prolific Bawburgh Fisheries.
Besides catching the biggest recorded tench of the season so far, the Tenchfishers member also managed to put 60 other fish in the net including a 10lb 1oz male tench and a 33lb 12oz common carp.
Darryn told Angling Times: "I'd initially went down to the fishery for a social with a friend but the fishing was so good I extended my holiday with work and stayed for the week.
"During this time I fished two lakes on the complex and backed up the two big tench with 12 9lbers to 9lb 15oz, 10 8lbers to 8lb 15oz, 20 sevens and 20 that were 6lb or under.
"The tench were surfacing all week and by topping up my swims little and often I managed to keep them there."
Chris caught 44 of his tench on the venue's Colney Lake by fishing to a clear area next to a weed bed around 36 yards from the bank.
Here he regularly Spombed a mixture of maggots, casters and chopped worms to draw the fish into a frenzy.
Over this, he fished helicopter rigs incorporating 50g Kamasan Black Cap feeders with alternating maggot, caster or worm hookbaits.
"I've had well over 100 tench this season but the 12lb 3oz fish was by far the highlight," Darryn added.
"The best was saved until last as it was the penultimate fish I caught during the trip, and I'll never forget seeing its massive tail break the water for the first time.
"I knew it was a decent double but had no idea it was that big – breaking my previous personal best by just 1oz was a bonus.
"I can imagine I'll struggle to have a session like this again."