"My home in Kent is about 160 miles from the Trent so it takes me around three hours to travel there, but with the weather conditions absolutely perfect I just had to go"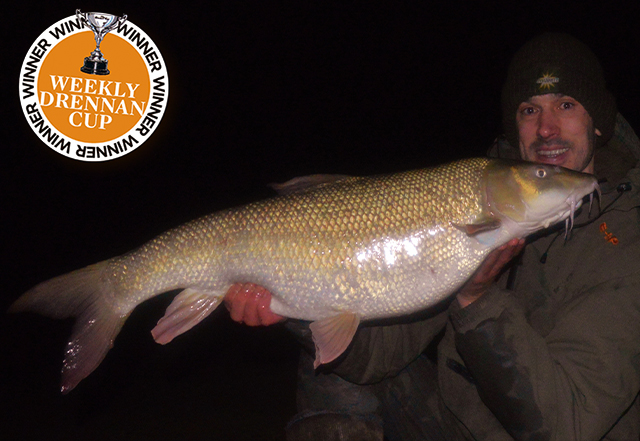 I could've fished a venue closer to home although I thought there was a better chance of a proper lump from the Trent in the winter, but I never imagined I would end up holding something this huge.
I remember during the fight it just stayed deep using its weight to hug the bottom and I could tell it was a lump because it was a completely different fight from a 12lb 2oz fish I had caught earlier.
Everything went according to plan and she slid in the net on the first attempt.
At this moment I saw the tail sticking out my Drennan 28″ landing net and I knew then it was something special.
Not only was it long but it had a massive belly too – an absolute beast!
During my 48 stay I also managed five other doubles including fish of 10lb, 11lb 8oz, 11lb 2oz, 12lb 2oz and 12lb 8oz.
I was just getting over a bad chest infection and hadn't been fishing for over a month, so these barbel really cheered me up"
All fish were caught on Dynamite Baits 15mm Marine Halibut Boilies soaked in Marine Halibut liquid attract.
Dan also used PVA bags filled with crushed boilie and Source pellets, which he'd previously soaked in Marine Halibut oil.