"I instantly ran to the rod and with a sweeping strike I connected with a thumping, headshaking fish.."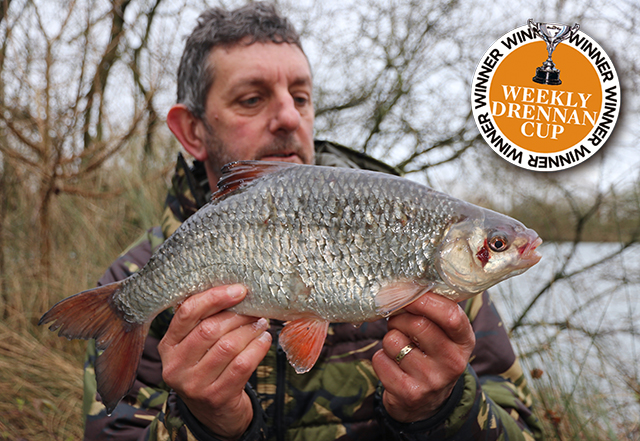 "I'd just set up in a swim on a Southern gravel pit when I was called over by another angler who asked me to take pictures of some big roach he'd just caught. The roach were obvious specimens so I was filled with confidence when I returned to my peg.
Tactics were simple – Block-end heli-rigs which were fished to a 12ft-deep spot with a firm, silty, gravelly bottom. On a size 18 hook I nicked on one red and one white maggot, which had been left in the fridge for around three weeks. I prefer old maggots because they're a bit tougher than freshly hatched ones. In the feeder I used maggots which were sandwiched between a dark Sonubaits roach groundbait. All I did was cast my rigs out to the spot and left them – not feeding anything over the top at all. I know there's not a lot of roach in this lake so I just wanted to fish for a bite at a time. The idea being that the groundbait drags them into the vicinity of my feeders, whereas the loose maggots actually draw them to the feeder and hookbait.
Well, half an hour in I discovered my plan worked as I had a drop-back bite on the bobbin (left rod). I instantly ran to the rod and with a sweeping strike I connected with a thumping, headshaking fish. My initial reaction was a roach and I really hoped it was one because If it was, it would be massive. I got it closer to the net and saw a flash of silver which is when I really got excited. It went into the net on the first time of asking but straight away I knew something wasn't quite right with the fish. It had the touch of a roach/rudd hybrid about it but it was more on the roach side. It was absolutely massive though and I was shaking carrying it up the bank to weigh it. It was such a special fish.
When the needle went round to 4lb I was incredulous. I've seen a lot of big fish in my time bure this one was as impressive as any of the others. I still had doubts about what it actually was however but luckily a scale had come off the fish in the net, which I kept and have since sent off to the EA for identification. (I'm still waiting on the results – fingers crossed it is a true roach!) After taking some pictures I slipped the fish back into the lake. So I re-cast my rod and within the hour I had a 3lb 12oz perch on the left-hand rod again. An hour after that the right-hand rod was away with the bobbin jumping up and down, so I immediately struck into this one. I thought it was another perch judging by the way it was fighting. Perch and roach fight very similarly! Well the fight was comfortable and I got it close to the net easily, and that's when I saw yet another flash of silver. That certainly got the adrenaline going again. It tried to power away from the net a couple of times before I eventually engulfed it. One thing is for sure, I had no doubt about this fish being a true roach. Everything just looked right on it. It looked roachy and the colour was a silvery blue. It was a big-old roach and I knew it was going to be close to my PB but never that close – beating it by just one ounce. Initially I thought I'd missed out with that 'hybrid' but made up for it with this 3lb 8oz roach. It's amazing how 1oz can be the difference between disappointment and happiness!
I slipped her back and then an hour later I followed the big roach up with another big perch weighing 3lb 11oz. It was a surreal session indeed! Had that been a genuine roach it could've probably been the largest brace of roach ever caught!"