The latest round of the Drennan Silverfish Spring League was fished on the Islands Lake and resulted in a close finish.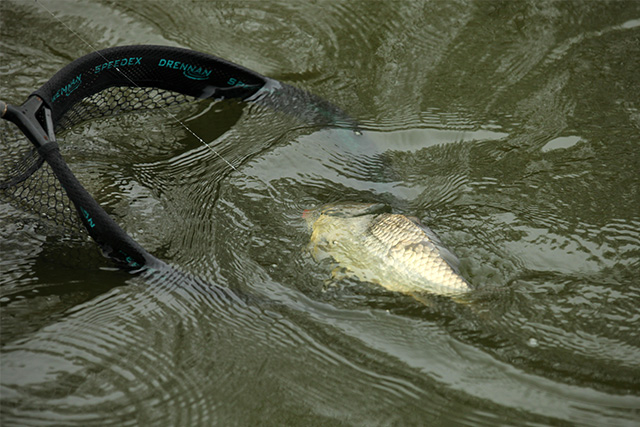 Dave Mountford and Jamie Green battled it out at adjacent pegs to finish just 1oz apart at the end of the match.
Jamie set off like a train on peg 10, initially catching well on the pole and then changing to waggler as the fish backed off. He was catching quality roach, ide and skimmers on casters and soon established a healthy lead.
Although Dave, who had drawn peg 9, was catching steadily on maggot on the pole and waggler, the fish were of a much smaller stamp. Halfway through the match, however, Dave foul hooked three F1s in quick succession, suggesting that a change in tactics was required. By cutting back on the loose feed he found that the small fish disappeared and by waiting for bites he could catch some really good skimmers, goldfish and F1s.
Realising that the gap was closing rapidly, Jamie switched back to the pole in the last hour and found plenty of roach and Ide feeding, enjoying a really good late run he finished on 30lb 12oz but this proved to be an agonizing 1oz behind Dave's total.
Despite a freezing cold Easterly wind, the lake fished well and everyone managed to catch double figures.
1st: Dave Mountford (Grimsby) – 30lb 13oz
2nd: Jamie Green (Grimsby) – 30lb 12oz
3rd: Kevin Johnson (Messingham) – 24lb 12oz
4th: Steve Ellis (Scunthorpe) – 19lb 4oz