Drennan Bordon's Carl Steffen reports back from a busy weekend's fishing.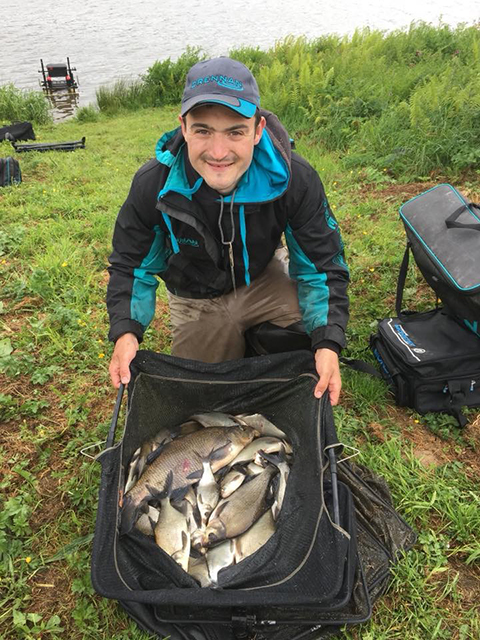 I have been down in Devon/Cornwall fishing the Matchcraft/Sensas Two Counties festival on Lake Tamar. There are two banks to the lake, Devon, and Cornwall, so you fish each one on rotation then a random draw on the 3rd day.
Day one saw me on the Cornwall bank on peg C2, which meant nothing to me. After plumbing up, I was a shocked to find I had a full top 4 at 13m and it kept going! I didn't feel I would catch many smaller fish in this depth, so I have decided to fish out and out for skimmers. One line at 13m which I have balled with 10 balls (70% damp leam and 30% worm fishmeal full of dead pinkie and a little worm). The other area I choose to fish was at 30 turns, which saw ten feeder fulls at the start. I rotated between the two lines all day to catch 40 skimmers for 26lb 11oz. Enough for second in my section, just 6lb shy of the section winner.
---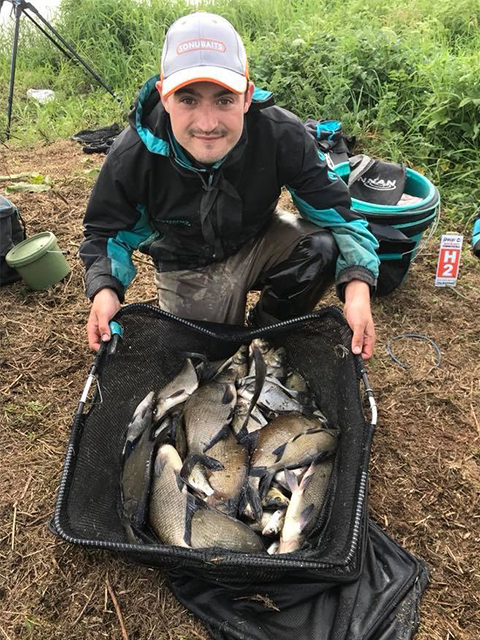 On day two I drew H2 over on the Devon bank which involved a trip across the lake to a section that had only been fished the day before. I think 12lb won it, but it was a very tight but fair section.
Completely the opposite today, on I plumbed out to 14.5m to find only 3ft of water! So away went the pole. I settled on a 4m whip and two feeder lines, one at 58 turns and other at 78 which put me near an aerator. I have balled it in on my whip line with 8 balls and put 10 feeder fulls on my feeder lines.
I started well-catching skimmers to 8oz after half an hour I looked up and saw a fish roll on my short feeder line. I put the whip down and gave it a chuck and after 5 mins I netted a skimmer of about 2lb. I have ended up catching steadily on the two feeder lines catching 70 fish for 39lb 3oz for not only the section win but also the match win!
---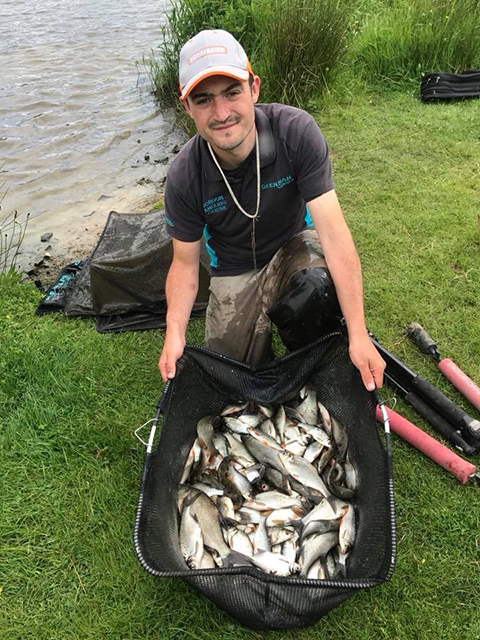 Day 3 put me on the dreaded A section in the bay on A5. No fish were caught in any numbers on the pole the day before with weights in the high teens being all caught on the feeder. I have decided to fish two feeder lines, both at 30 turns left and right as I had no one on A6.
Let's just say it didn't go to plan after 2 hours. I had only landed seven small skimmers for around 2lb. Out of desperation, I set up my pole and one pole rig at 6 sections and introduced 10 balls of my roach mix. I had nothing for 10 minutes, then I missed a bite. In the last 2.5 hours, I have managed to put 32lb 12oz on the scales for second in my section. Missing out on my section by just 6oz!
---
The point cost me second in the festival as I would have finished on 4 points with a weight advantage but, Instead, I ended up 6th overall. Well done to Michael Buchwalder for the perfect 3 point festival win.
Tamar is an awesome venue and really well run by Simon Poynter and the team at south-west lakes and I would like to thank them and the sponsors for a fantastic few days fishing.