Stu Lennox has been having some great sport targeting chub on a local stretch of the River Kennet.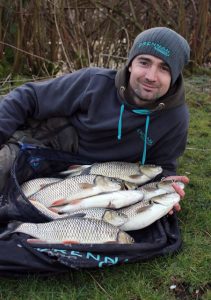 The fish were all taken on bread flake, trotted down the swim under a 1 Swan Loafer with a size 10 Super Specialist hook tied to 0.17mm Supplex Fluorocarbon.
"I fed a couple of balls of mashed bread every couple of fish," he tells us. "The fish backed off during the day and I had to pick them up right under the branches of an overhanging tree. I needed the strong line and the extra power of my Acolyte Plus float rod to persuade them out! 
"It was another amazing day on the Kennet. A beautiful place to be angling on a crisp February morning… and with a netful of chub to make it even better!"