This year we were lucky enough to be able to join Martin Bowler and Steve Rowley on the banks of Chew Valley Lake on its opening day for pike fishing.
Chew Valley Lake is well renowned for its scenic beauty and top quality pike fishing, with fish caught in excess of 40lb each season, which makes it every pike angler's dream venue. It's an impressive reservoir with an average depth of 14ft and a maximum depth of 37ft.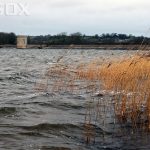 On arrival, we were greeted with gale-force winds with gusts of up to 40mph. They both knew that presenting a bait at any distance would be a real challenge. Both Martin and Steve began by trying to cast their deadbaits out but were only reaching 30 yards due to the strong winds pushing directly into their bank.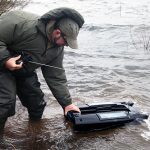 A decision was made and Martin decided to risk it all and use his bait boat, which would hopefully allow them to get their hook baits into 10ft of water around 60 yards out. This is a successful depth that they both look for at this time of the year when pike fishing at Chew. With the plan to use a bait boat a success and all dead baits in place, they sat back and awaited the first bite.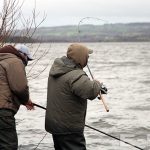 Within minutes of placing the final rod on the rest, Martin's indicator dropped back and braid began to peel off the reel. With the fish steadily taking line Martin wound down and gave a firm strike with his E-Sox Piker Bait Rod to set the hooks, the rod hooped over and the battle commenced. The fish initially made a run to the left, towards Steve's swim, but applying steady pressure and keeping the rod low the fish soon turned and made it's way back across the swim, edging closer to the waiting landing net. When the fish finally glided over the net there was a huge sigh of relief for both. Steve stared down into the folds of the net and shouted, "It's a thirty!"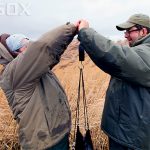 The pair lifted the scales and the needle flew past 30lb with ease, settling on 34lb 12oz! A true giant, the reason many pike anglers flock to the banks of Chew every year to be in with a chance of landing one of the real monsters that reside within the lake. With a new personal best from Chew for Martin, he was lost for words, completely captured in the moment.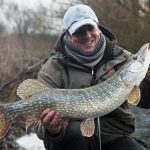 An hour later, Steve's right-hand rod signaled a take. His indicator dropped off and the line began to peel off the spool. Steve crossed his fingers and struck, hoping that it would be another monster. After a very spirited fight, a low double-figure pike made it's way over the net for Steve. Not a monster, but a great sign that the pike were feeding.
With one pike each already, hopes were high for even more action. But, it was not until late afternoon the fish switched on again. Martin landing another impressive pike of 20lb 4oz and losing another decent fish not long after. Then just as it got dark, Martin landed yet another pike, this time slightly bigger than the previous at 26lb 1oz.
The score at the end of the first day was Martin three, Steve one. But with another day to go, Steve was optimistic about picking up a few more fish on a sardine.
Day Two
Another early morning start on the second day for Martin and Steve and they decided to move to the Nunnery bank at the other end of the lake from yesterday's session. This proved to be a great move for Martin as by late afternoon he had managed to land six pike to 23lb 9oz, putting him well into the lead.  Again fishing in 10ft of water at around 70 yards with his smelt dead baits.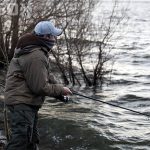 Steve had managed just one jack pike during the morning on sardine and his rods remained static throughout the afternoon… until darkness descended. His rod signaled a take out of the blue and his E-Sox Piker Braided Reel Line began to coil off the spool. After a great fight in the shallow margins Martin managed to wade out and scoop up Steve's prize. It was the one Steve had patiently been waiting for, a thirty!
The scales swung around to 34lb 2oz, just 10oz short of Martin's fish the previous day and a great fish to end the trip on for the pair.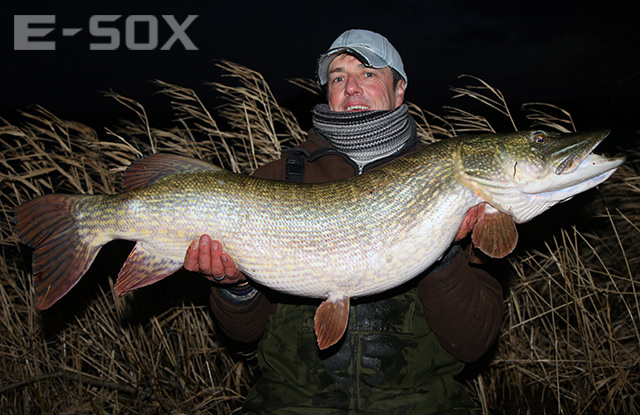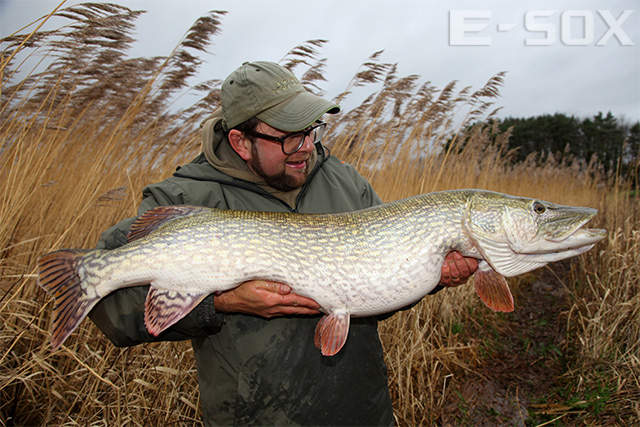 Two 30lb+ pike in two days; who could ask for more? Definitely, one of those red-letter sessions and certainly a trip to remember for the pair. "What an incredible period of big fish! I can't complain if I don't see or catch another pike this winter after the past few days," added Martin.