Northampton based specimen angler, and former Drennan Cup Holder, Jamie Cartwright reports on a hectic session for perch on the Great Ouse.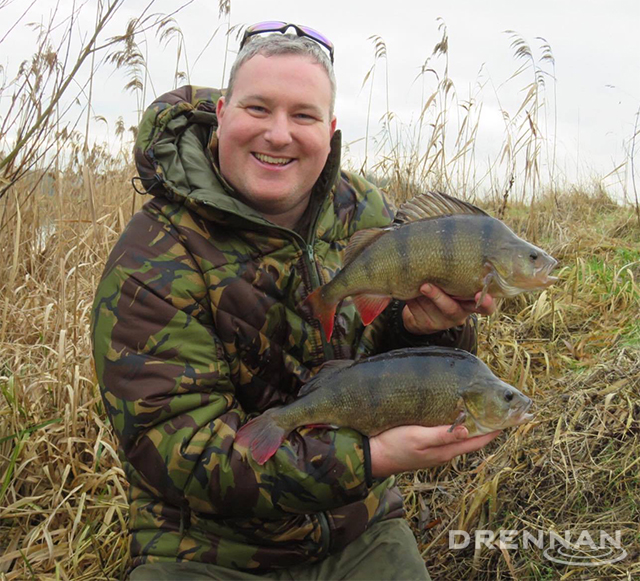 The day started quite well, the conditions were perfect, heavy cloud cover had kept overnight temperatures up around 8 or 9 degrees and the river was carrying a hint of pace and colour after a spell of rain earlier in the week. 20-minutes after casting out my lobworm hook bait it was picked up by a stunning perch weighing 3lb 8oz. Another 20-minutes past before the 1oz Slow Taper Quiver Tip, jagged and pulled round again. The culprit this time was another bristling young perch of around 1lb 12oz, things were looking good!
Not long after taking that second fish the cloud cover cleared and the sun came out and brought an end to the feeding spell, well for the perch at least. A chunky tench had me convinced I was attached to an enormous perch, right up until it rolled over the landing net.After that I sat bite-less for an hour, mulling over my options, I could set up a float rod and try trotting a lobworm through the swim, or I could set up my 8ft 6in Esox Dropshot rod out and take the battle to the perch.
I decided to go for the more mobile approach and mounted a 4″ rubber shad mounted on a 7-gram jig head and made my first cast just beyond the area I had been baiting with the broken lobworms. Rather unpredictably the shad was nailed first cast right over the bait and a stunning perch weighing 2lb 12oz came reluctantly to the waiting net. Coughing up lobworm sections as I unhooked it. Another couple of casts and the shad was grabbed again and this fish felt slightly better than the first, and so it proved, weighing in at a chunky 3lb 4oz, a new lure caught personal best by 8oz! I should point out that I rarely use lures, mainly due to a lack of confidence in them, but my confidence now was sky high, and I was keen to make up for lost time!
A couple more casts saw no further action so I moved down the bank and tried my luck once more. At this point, another angler came walking down the bank and enquired how I was getting on. I played down my success saying I'd had a couple of nice fish, without giving the game away completely as I didn't really want him pitching up just below me as I was keen to explore the rest of the area. Anyway, while we chatted I had a couple of casts as I wanted to keep the momentum going. You can guess what happened as the lure was grabbed by another hungry perch. Quickly followed by another. At this point the angler made up his mind that the fish were feeding and he headed off downstream into the next field as Dougie headed back upstream towards me. He had had no joy downstream and was moving up to try his luck in the field I was fishing. I told him all about my success with lures and how they had turned the day around. He was pleased as neither of us had ever had any great success with the lures. As we chatted I had another cast and sure enough, after a couple of twitches along the bottom, the shad was hammered by another hard fighting perch. I offered Doug a go on the lure rod but he was reluctant and left me to it, heading off upstream. Four more perch in the next 4 casts left me in a bit of a haze, they were all good fish too, averaging over 2lb, including another over 3lb.
Fishing of that intensity couldn't continue and sport slowed with me taking a couple more fish before the clouds returned and the sport stopped for the afternoon. My final tally for the day was three fish between 1lb 8oz and 2lb, nine between 2lb and 3lb and three x 3lb+ fish. It was certainly a day to remember. Dougie pulled a 3lb 9oz out of the hat too at last knockings from upstream which made the day complete. My new found enthusiasm for lure fishing for perch will see me continue and try to up my lure caught PB to over 4lb by the end of the season.