Jamie Cartwright caught this immaculate 4lb 6oz perch from the Great Ouse on a lure last week. Here's the former Drennan Cup Champion's account of a memorable capture: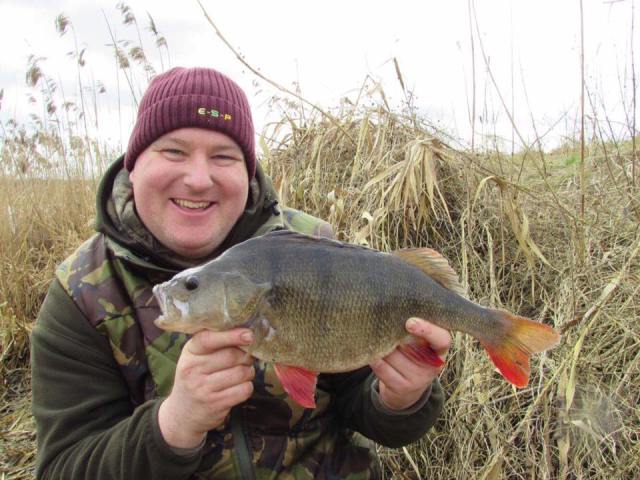 I arrived at the river bright and early on Sunday morning. The first thing I did was set up my lure rod in an attempt to track down a shoal of fish. I also had a bucket of lobworms and a couple of pint of red maggots with me as a back up in case I struggled with the lures, but I had been enjoying a rich run of form with the lures of late, so for now the lid would stay on the worm bucket.
I started casting my roach pattern Savage Gear 4 Play Shad all the way across to the far bank and began twitching it back along the bottom, trying to keep in contact with the lure at all times. To help with this, it's crucial to use a jig head that is heavy enough to allow you to feel the lure hit bottom, but not too big so the lure behaves unnaturally.
In my third swim, I had an aggressive take as a clearly big fish made its mistake. I was beginning to think it was probably a pike, as it was feeling pretty heavy, although it didn't seem to be darting about as pike tend to do. As it came up under the rod tip I was genuinely surprised by the size of the perch that appeared out of the gloom. I scooped up my prize and let out a huge sigh of relief, as I could see the lure clearly in the corner of the fish's mouth during the latter stages of the fight and I was very nervous of the hook dropping out or snagging up in the rushes under the rod tip.
On the scales it weighed 4lb 6oz, which is my lure-caught personal best by exactly 1lb. It also fulfilled an ambition I'd set myself back in January, which was to catch a 4lb perch from the Great Ouse before the season was out. I followed that fish up with a few more perch weighing 3lb 1oz, 2lb 15oz, two 2lb 14oz and a 2lb 6oz, which certainly made it a day to remember. I just hope I can enjoy a few more days like that before the season ends.