The Shropshire Union canal was the destination for the 15th qualifier of the year and will also be holding the final on the 19th of October.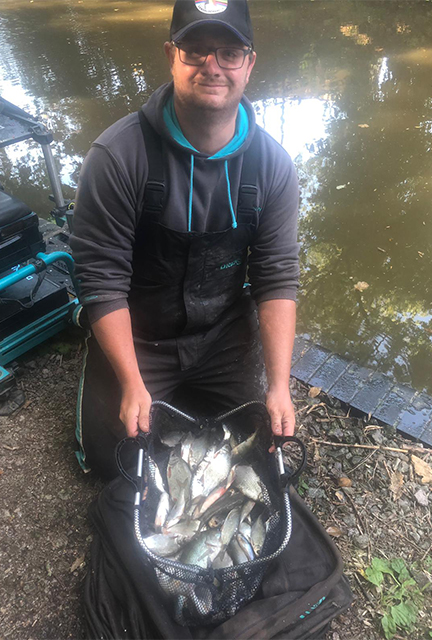 Robert Casterton with a net of Skimmers and Roach from the Shropshire Union canal
Drennan Leicester duo Robert Casterton and Malcom Appleby recently travelled to the Shropshire Union canal at Shebdon to take part in the AT/CRT canal pairs. Robert drew A51 and Malcom B45. Not knowing the canal well they decided to get to their pegs and then setup for what they thought was going to be best. Robert started on chop worm tactics for Perch using an AS6 pole float in .6gr fished on green Bungee just incase anything larger showed. Later on in the match, switching to strung out rigs fishing maggots on SF3 pole floats in 0.1gr and 0.2gr. This kept a steady flow of stamp fish coming to the net which gave Robert 9lb 10oz and the all important section win.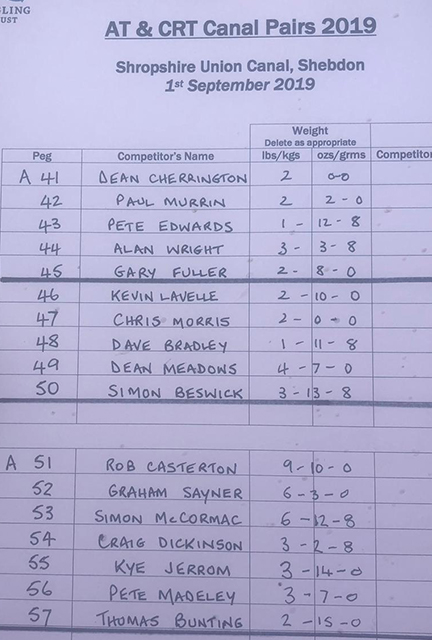 A worthy section winning catch put in by Robert
Malcom managed to keep a steady flow of Roach coming from his groundbait line. Using the new Soft Pole Line catapult, Malcom kept the bites coming by feeding squats and pinkies regularly. When the line started to fade Malcom then switched to his caster line where he managed to catch some slightly better Skimmers and Perch. At the weigh in Malcom had managed 6lb 14oz and 5th in his section.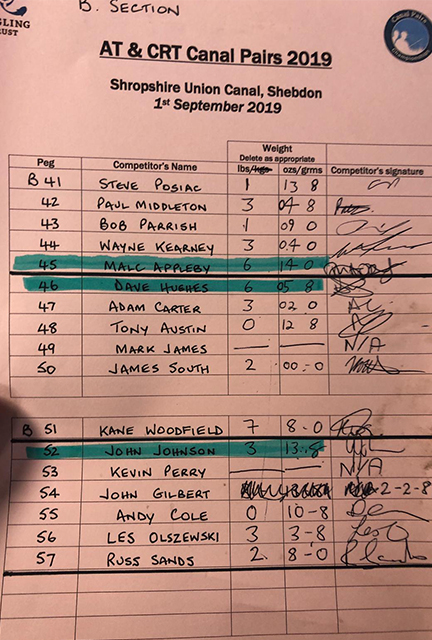 A close section for Malcom with 6lb 5oz coming from the next peg!
The pair had managed 110 points out of a possible 114 and this was more than enough to see them through to the final. Fortunately enough the final is also being held on the Shropshire Union canal and the pair are already feeling confident.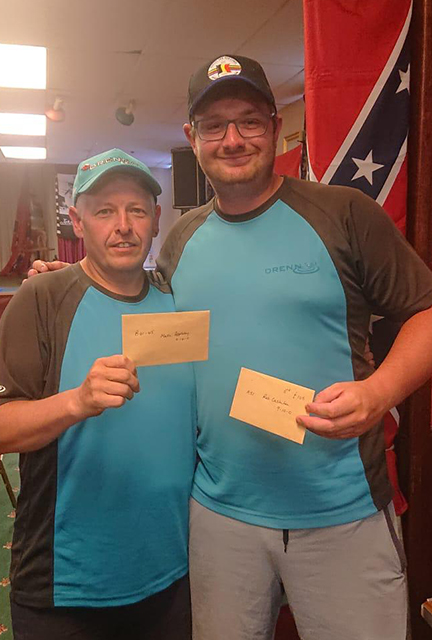 Malcom (Left) and Robert (Right) after qualifying with two nice brown envelopes