Drennan's Ryan Hayden was rewarded this weekend with a lovely brace of perch from the River Great Ouse after spending the day searching with lures.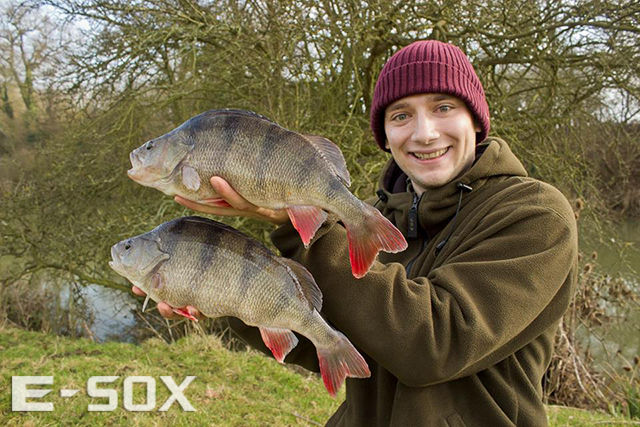 With the colour dropping out of the river, Ryan decided to give the lures a go in hope of locating a few big perch.
"After a relatively unsuccessful morning with only one small pike to show for my efforts, a move further downstream resulted in a take on the drop. A perch of about a pound had hit my lure within a foot of the far bank less than a second after it had hit the water. With plenty of water already covered, I hoped I had located a shoal of perch held up tight to the far bank behind a large fallen tree, sheltering from the extra flow."
A dozen or so casts later, Ryan had hooked and landed two better fish, again from the same area confirming his thoughts that they had been sat out of the extra flow.
Ryan used his 8ft 6in E-Sox Dropshot rod coupled with an FD-3000 reel loaded with 8lb braid, 8lb Fluorocarbon leader and a crayfish lure mounted on an 8g jig head.
"When there is extra colour, I prefer to use creature type baits as they give off much more vibrations into the water than a fish shaped lure. The only downside being that they do not cast as well due to their size and less aerodynamic shape. I find myself using a slightly bigger jig head than normal to achieve the same distance and to be able to confidently feel the lure hit the bottom when twitching it back on the retrieve," added Ryan.