A Drennan Umbrella has been a regular request this year. Now we can reveal our 44in (110cm) and 50in (125cm) models.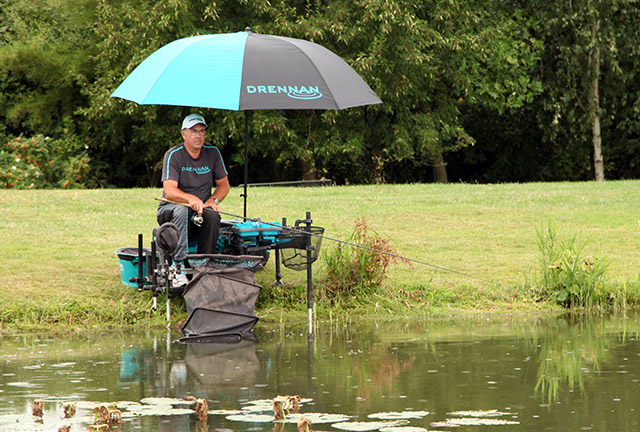 Plenty of attention to detail has gone into both designs. They come with an extra long, adjustable ground spike, which is much thicker walled for strength and rigidity. The extra ground clearance also helps to alleviate a common problem with fishing brollies.
The special shallow frame canopy gives you plenty of head space, plus we have re-designed a machined brass angle-tilt mechanism that securely locks at hori­zontal, 30º and ver­tical angles.
Both models incorporate PU coated, rot-proof, poly­ester with taped seams to keep out the ele­ments. At just 2.35kg, the 44in Drennan Umbrella is really lightweight and transportable, while the larger 50in model features slightly heavier 210d fabric to make it more of a 'deluxe' choice.
Nice extra touches include securing rings, ground spikes, an umbrella cord and even some threaded 'sta­bil­iser' attachments that accommodate a bank­stick or storm pole to help you create an even stur­dier setup.
A Drennan Umbrella makes fishing in the rain a lot more bearable!