Alan Scotthorne reports back on his recent week down at White Acres fishing the Dynamite Baits festival.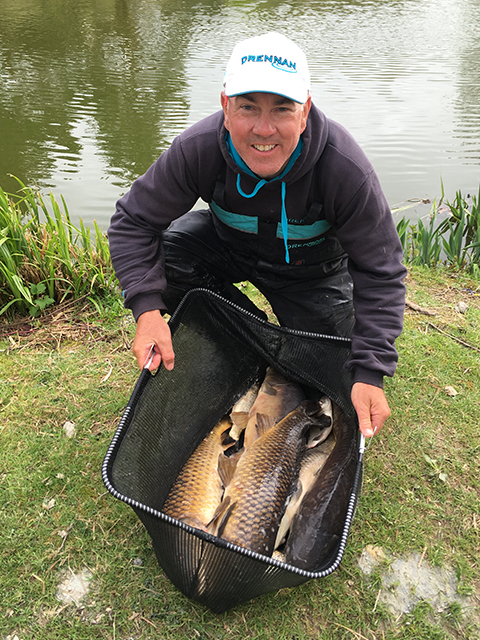 This match fishing mecca with the help from Clint Elliot and his team in the shop large and a large cash injection from Parkdean have helped it back to its former glory. The paths and pegs have been stoned, new platforms created, bankside vegetation has been cleared and stocking where it was needed has taken place with both carp and F1s. Clint informed me that this is a long-running project and more fish will be introduced to improve the fishing to an even greater level over the next few years.
I caught 427lb over the week and I only just made the top ten. This in its self-tells you that greater things are to come with the weather still being quite cold for the time of year. My start of the week began on Trewaters and with 79lb 12oz and a section win and second in the group I was off and running. Most of my weight came from kinder potting meat at 15m with my Acolyte Pro Pole using an AS2 0.03g rig to 0.18mm X-Tough mainline and 0.15mm Supplex Fluorocarbon hooklength with a size 16 B911 hook. Fishing cubed meat on the hook, I caught mainly Carrassio until the last hour, when I started potting meat to catch a few carp to top up my weight. The limit here is just one pint of meat, but when I say I still had a third of it left, it tells you how little I fed over the five-hour match. AS2 floats are just perfect for this style of fishing and are virtually indestructible to the point that I have one float that I have caught over 2000lb of carp on!
---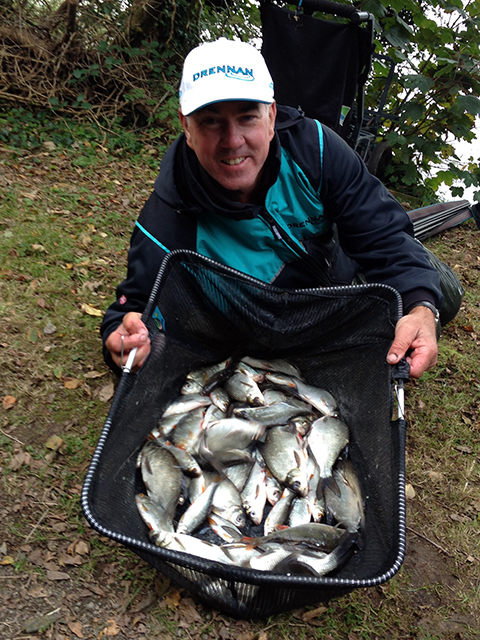 On the second day, I was at my favourite venue, Porth reservoir. This time I got slightly wrong and my 17lb 15oz of mainly skimmers fell two ounces short of winning the section. The mistake I made was just going a little too far on the feeder. I used a small green Groundbait feeder with 20g of lead on it I fished at 32 turns of my 4000 sized reel. This was just a little too far and with the wind increasing during the day, it made it difficult to be accurate. If I had come back to 25 turns I am sure I would have caught more. I fished with new Sensas IM7 natural fishmeal groundbait with copped worms and small pieces of red worm on the hook. I did also feed a bomb line short with catapulted casters where I did nick a few fish mid-match.
---
Day three and I was on Bolingey. With the lakes fishing well, I knew I would have to catch a big weight if I was going to get the desired section win. This was made more difficult by drawing peg 1 and having Andy Bennet on a more favourable peg and Jonny Maddison on another good peg in the section. My peg has a good margin so I decided to utilise meat at 15meters up the bank side in three feet of water and a long pellet line in open water. I fed both lines with a catapult to get maximum fish in the peg rather than kinder potting bait. This worked well with a few fish on 6mm pellets long, again with my standard AS2 float. A change to the margin and I was flying. At the mid-point in the match, problems began. With missed bites and foul hooked fish and I had soon wasted an hours fishing. All I needed to do was move into shallower water, as soon as I did I began catching again. I finished the match with 151lb, coming second yet again to Andy who had a great catch weighing 170lb to take the win. Jamie Wilde won the group with a terrific 230lb catch with 190lb needed to frame on the lake. What a venue! A credit to owners Mike and Andy.
---
Match Lake (Pollawyn) is another venue I enjoy fishing and I drew peg 26 on the high bank. Not a great peg as the bank opposite is very steep, making it difficult to catch on the method feeder. With this in mind, I put all my eggs in one basket and fished again just a long 15m pole line. Using a 1.25gram AS6 rig to my standard main line and hook, I set up with a front rest to combat the wind which made presentation difficult at times. I was the only angler to rig the long pole, so at least I would have this middle line to myself. Potting casters, meat and corn regularly I had just one skimmer with 2-hours of the match gone and with all the anglers around me catching the odd carp on the feeder I looked in trouble. My first carp was somewhat a relief and I was up and running. The fish then stayed present for the rest of the match. Catching just the odd big carp I was soon ahead in the section and finished with a somewhat easy section win with 70lb, all but a couple of ounces. 41lb was second, and again, as the previous day, I was third on the lake with few quid in the pocket. This was all down to confidence that the fish would eventually turn up if I kept feeding. I went through three pints of casters two tins of corn and half a pint of meat before they eventually turned up.
---
On the last day, I was on Twin Oaks, peg 27. A great draw and it was now up to me to get the best from it. I knew the method feeder had been good during the week so I set up two 10ft Acolyte Plus rods with a 30g Method Bomb for the long line to the far bank. I also set up four pole rigs for both short line and margins lines. The start was very slow for everybody and with five fish in the first hour and five big F1s in the second hour I was still in contention. I could see all of the lake and knew pegs 21 and 23 were catching well, but with a good run of fish in the third-hour fishing pellets on the feeder and a banded 6mm pellet on the hook, I was up there. I then landed a few carp in the fourth hour and should have then come short on the pole, but for some reason, I stuck with the feeder and this was to prove costly. I finished third with 109lb with 126lb winning and 114lb second. I knew I had made a major mistake.
---
I had a great weeks fishing and a top ten finish is what we all aim for and my two wins and two seconds did just sneak me in, but I felt this was one I could have won if I had been a little more on the ball. I am now looking forward to the Guru festival for some more great festival fishing. Well done to Paul Burton on winning the festival, the only angler with four wins in the week. 2oz at Porth did prove costly!