Corn tempted these 5 river Nene rudd for Andy West who showed great patience in capturing this haul of red fins.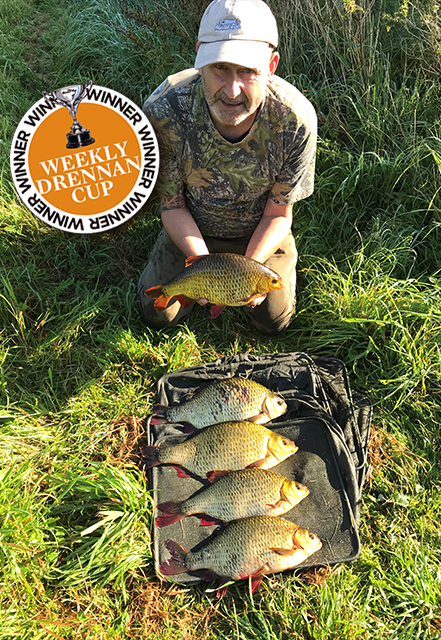 The nation's army of river anglers have kicked September off with a bang after a flurry of specimen fish are banked during a superb week of running-water action.
Arguably the best of the lot fell to Wellingborough-based angler Andy West who netted five stunning rudd over 2lb to a best of 3lb 1oz 8dr.
Fishing a late evening session on a backwater section of the River Nene, the keen specimen hunter broke his pb twice when he got a small shoal feeding on sweetcorn just before dusk.
He said: "I fed two or three grains of corn every minute or so but after 20 minutes I just had to make my first cast.
"I waggler-fished three grains of corn at 18" deep and then the bright tip disappeared moments later.
"I connected with a solid fish and after a quick but hard fight to keep it out of the weed, a 2lb 14oz 8dr golden rudd lay in my net – I was over the moon after beating my previous best of 2lb 9oz 8dr."
The action didn't end there either, as Andy explained further…
"I'd had three more 2lb fish as darkness closed in then added a starlight to my float-tip in attempt to get one more bite," he added.
"Within five minutes I connected with the rudd I was really after – a fish of 3lb 1oz 8dr, which weeded me twice, before constant pressure brought the fish to the net.
"I stayed the night and retained the fish in deep flowing water until around 7am, when my son in law and wife arrived to photograph the fish. "What an evening's fishing!"