Steve Rowley recollects a 'red letter day' that will be permanently etched in his memory forever.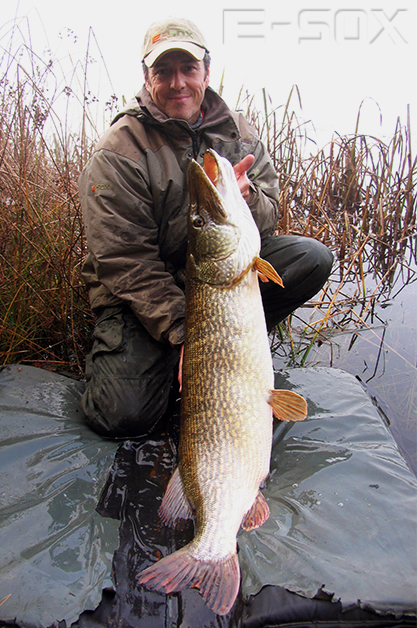 I had decided late the previous evening that I was going to do a short morning session on a gravel pit that I had rarely fished before. The pit had never really hit the mark for me. I always end up concentrating on other waters which is partly why I decided to dedicate a small piece of my time to give this water a go.
I set off just before first light and arrived by a glorious misty sunrise, with not a single ripple on the water. I stood for a few minutes working out what areas to target. Conditions were not looking great for pike fishing. Flat calm, misty, with a high-pressure, not really ideal, but I only anticipated fishing until midday, so I had nothing to lose.
I didn't know much about this particular pit, but having done a bit of lure fishing some years earlier, I was aware that there was a deeper channel running along the far bank, a typical drainage channel used to pump the water out when the gravel was being extracted. I decided to fish two dead baits alongside the weed raft that had built up on the inside of the deeper channel, the theory being that pike might either be patrolling along the channel or were tucked under the weed rafts waiting for the abundance of roach or rudd to venture past.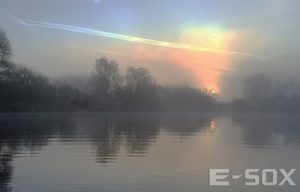 I took a few photos of the glorious misty sunrise, and then sat back to relax and have my first cuppa. Only an hour later, one of my drop-offs fell against my backrest. To say I was shocked was an understatement, as I fully expected to pull into a feisty little jack as I wound down. I was only fishing with small horse mackerel, so I knew I was in with a chance of a good hook hold, but I was greeted with an energetic first run, and my powerful E-Sox Piker rod curled over beautifully, cushioning every shake of his head.
The fish kited strongly to the left, heading for my other line, I locked everything down tight and hung on, but the fish forced me to ease off and back wind, as it powered away. My enthusiasm grew more and more every second the fight continued. Luckily the fish turned back towards me, until it saw the net, then off it went again, on what turned out to be its last run. As the fish slowly drifted towards my net cord, it's mouth wide open, I murmured out loud, "Please don't come off!" It was one of those moments that really does stick in your memory. That moment as you stretch as far as your arms can reach, desperately trying to glide the fish over and into the waiting net. Yes! She was in the net. I started to shake in excitment and disbelief.
As all big fish anglers do, I stood above the net looking down at my capture, and yes, this was a big fish. I was desperate to get her unhooked and weighed as quickly as possible. I slid the net away, and knelt either side of her huge frame, to stop her from thrashing about, and as I opened her huge jaw, my two size 4 semi barbed E-Sox hooks were simply lying in her mouth, unattached. I just gripped the top treble and took them out of her mouth. Fantastic, if only they were all like that. I then quickly slid her into the weigh sling and as I struggled to hold everything still, the needle eventually settled at 31lb 5oz.
I was so excited I could have sprinted around the pit ten times. A thirty from a pit that I had paid little attention to and it was only early November. I was completely in shock as I slid her into my pike tube to give her a well-deserved rest. I stood in the water looking down on this fish lying the full length of the tube and wondered just how they get this big. I have caught lots of 20lb pike, but a thirty is a completely different creature, it's dimensions are mind-blowing and I could never tire of glaring down at these magnificent predators.
I quickly decided that I could not risk doing self-takes, so I reluctantly called my fiancé, who would undoubtedly still be asleep. I called once, twice, three times, then after ten minutes of trying she answered, I could have screamed with excitement. Using all of my charm, I persuaded her to get dressed and drive to the venue do the honors.
We quickly rattled off all the photos and watched this beautiful fish glide back down the marginal shelf and into the depths. I kissed my lovely photographer goodbye and decided to fish on for another hour or two, just to soak up what had just happened. I quickly recast and sat down to admire the photos on my camera.
About twenty minutes later the sun had broken through properly and within five minutes the mist had completely lifted. I started to contemplate packing up when off dropped the same drop-off indicator. I looked at it in complete disbelief, as the line slowly peeled off the reel. Exactly the same scenario unfolded yet again, almost a carbon copy, and within five minutes I had yet another big fish resting in my net. I am now speechless, I look down at the fish, and though not as big as the first one, it ended up turning my scales around to a very credible 26lb 12oz. What a red letter day!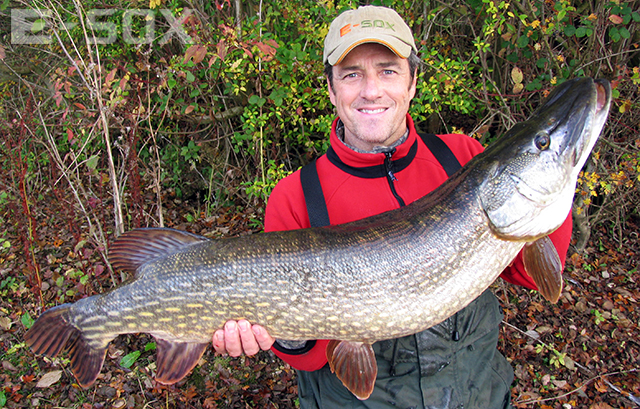 The moral of this story is twofold. One, don't discount any water, it may be worth trying from time to time in-between your regular venues. And two, don't be completely driven by the weather conditions. Sometimes the least likely days might just surprise you!