Alan Scotthorne reports back on the latest festival at Lindholme Lakes.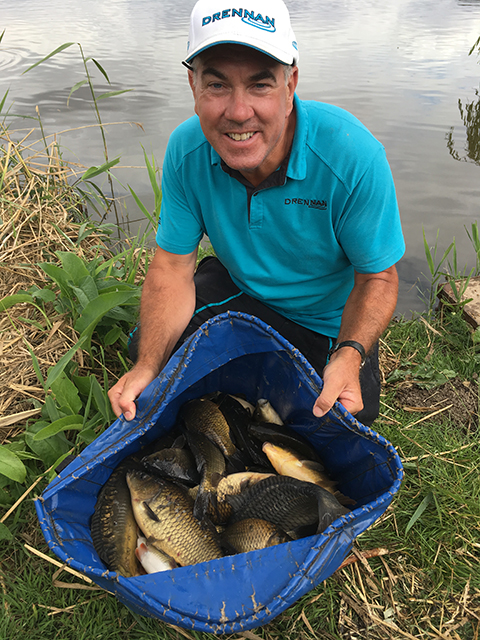 I have just finished fishing the latest Lindholme lakes festival run by Neil Grantham and his son Aran on what turned out to be probably the best match I have ever fished for big weights. Weights consisted of carp and F1s but skimmers also played their part. Despite not making the top twelve, I still enjoyed some great fishing. Just to give you an idea of the quality of the fishing there were 81 weights over 200lb, 9 over 300lb and a terrific weight by Andy Bennet of 429lb which set a new venue record!
Starting the week on Benny's Lake I put 373lb of mainly F1s on the scales for a section win and also the match win. It was a fantastic start to the week. This was rather robotic fishing, catching at nine meters with casters and also on a top kit shallow with maggots. I used a 'jigger' float made from a Drennan In-line Crystal Dibber and was best with banded caster as a hookbait. It was a case of swapping lines regularly to keep the fish coming and I also fed around 5 pints of maggots short and 4 pints of casters long. Interestingly a small Kamasan B911 eyed hook in an 18 was still the best even with so many fish present they would not take a bigger hook as keenly.
---
On the second day, I fished on Laurels Lake and this is where it started to go wrong for me. I finished second in the section with 170lb of nearly all carp with 180lb winning. I just felt I didn't react quick enough to change during the day, which could have added a few extra fish to my weight. I started short with no bites forthcoming on pellets, so I moved out to a shallow caster line and again no response. Pinging pellets and fishing sixteen meters with a swinging rig on a full top kit shallow I did eventually start to catch a few big carp with a banded pellet. After a run of seven or eight carp again the wheels fell off. All my lines were failing to produce.
With everything weather wise pointing to the fish being shallow I reluctantly went on the bottom on my sixteen-meter line after spending a full hour chasing shadows. It was solid! I proceeded to catch well on 6mm pellets for a couple of hours and topped up late with a few short in the last hour down the margin with corn. I was disappointed in the end to miss out by just 10lb and new it was there to win if I had changed quicker.
I didn't realise there was so many carp in this lake and I have not fished many summer matches for carp with my international commitments and this I felt was my downfall in the end.
---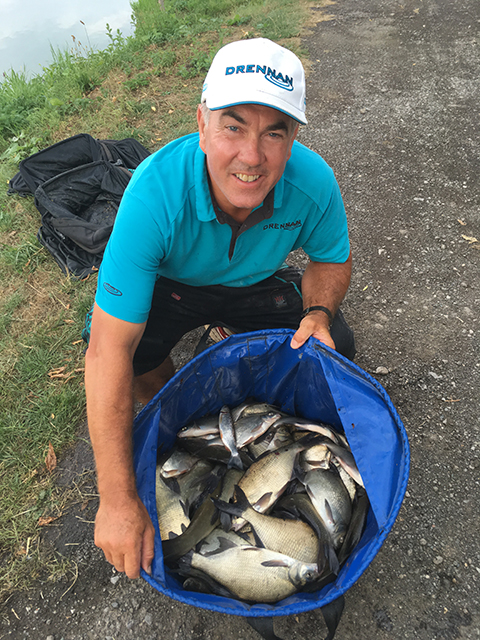 On day three I was on the Bonsai Lake. Very disappointingly, I drew peg 78. With pegs 84,16, and 23 all having masses of room in the section I was really up against it to beat any of these much better pegs with the standard of angler fishing.
In the end, I did have fantastic days fishing catching skimmers short feeding micro pellets and fishing soft pellets on the hook. I put together 83lb of skimmers on the scales plus nearly 100lb of carp and F1s but unfortunately, it was only good enough for third.
Most of the carp I caught were down the middle, directly under where I was feeding caster for a shallow line. I failed to catch shallow which in the hot weather I thought was a banker. Again, I was not that far off winning with Ben Fisk catching 213lb on peg 16. if I had spent a little more time short for skimmers and a little less time trying to catch shallow, I could have come very close.
---
Thursday I was on the big Loco Lake. This lake had been rested the day before and I drew peg 37,  great draw on paper. It turned out that the majority of the fish were at either end of the lake and I caught just four fish for 5lb. With 50lb winning the section I cannot explain why all the fish were at the top end of the lake and the bottom with nothing in the middle. All the other lakes fished well and on Friday this lake again fished its head off. Just when you think you know a little about fishing, it throws up a freak day. I tried almost everything possible for just five bites all day, one to forget I think.
---
On the last day I was now making up the numbers, but again, I had a great days fishing on Willows Lake catching 140lb consisting of 63lb of skimmers again on a short line with micro pellets and around forty F1s caught on pellets on the deck at 11meters.
I was on the top bank and with this peg being on its own all week it looked again like a good draw. But with eighteen anglers in our group and seventeen in the other three groups I had an angler on the spare peg 32. Tommy Pickering won the section with a great catch of carp from peg 40 weighing 169lb.
---
I finished the week with 8 points dropping a last. 6 points were needed to frame and I really needed to fish an almost perfect week to achieve this, but my dropped result would never have been good enough.
What I learnt most in the week was to change more quickly when you are not catching. Although I had set up a lot of kit all week, I still needed to cover more options in case all went wrong. I presumed that it was going to be shallow fishing all week and this was far from what it was and bomb and pellet did catch a lot of fish on all the venues something I never considered with the hot conditions.
Neil put on a great match and well done to the winner Dale Shepard, who put all his knowledge of the venue to good use in an emphatic display of angling. Well done Dale.
---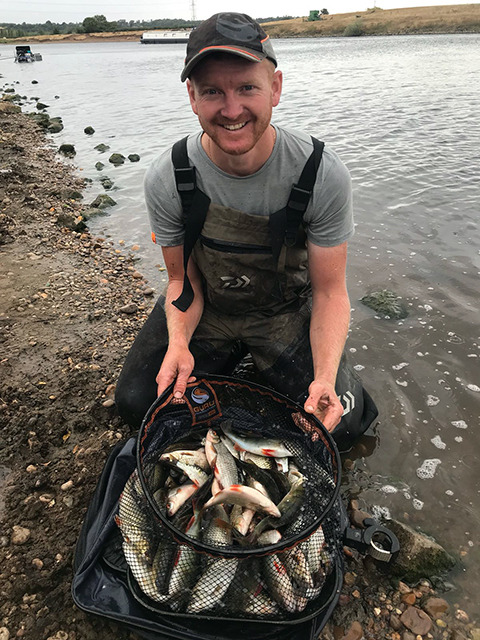 I am now looking forward to some good fishing on the River Trent that is fishing its head of for roach and all looks good for the Angling Trust National held in mid-August.
Left: Barnsley Blacks team-mate, Matt Godfrey on a practice day on the river at Burton Joyce with a cracking net of roach.