FEW ANGLERS have held a 30lb pike so when Alyssa Williams' second cast of the trip produced this immense 34lb 14oz specimen she couldn't believe her luck!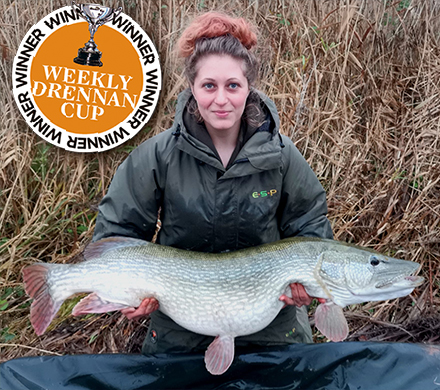 The huge predator, which completely annihilated her previous pike best of 8oz, was tempted from Somerset's Chew Valley Reservoir during a day session with her husband Sam Jones.
Speaking to Angling Times, Sam revealed that the tremendous catch would never have happened had he not let Alyssa have a go with one of his rods.
He said: "Alyssa had been pestering me for ages to have a go but when I finally caved in I didn't expect her to catch a monster!
"She did it all herself: mounted the small herring on two single hooks, drove the bait boat 80 yards out and dropped it before eventually landing the fish."
Prior to hooking the pike Alyssa missed a take from a trout but wasted no time making sure her bait was back out on the spot.
"When she had the take from the trout I gave Alyssa a bit of advice on how to hit the bites," Sam added.
"After the pike took the bait Alyssa picked up the rod, wound down and hit into the fish, and straight away it took off across the surface.
"The pike then began to kite behind a small tree so I waded out a bit to guide it away before slipping it into the net.
"I knew it was over 30lb, and when the scales spun round to 34lb 14oz we couldn't believe it – Alyssa was over the moon!"
Alyssa's pike is one of the largest caught from Chew this season and just one of a handful of fish caught by the American in the UK.