After the penultimate round being cancelled due to bad weather, the conditions finally improved for the final round of the league.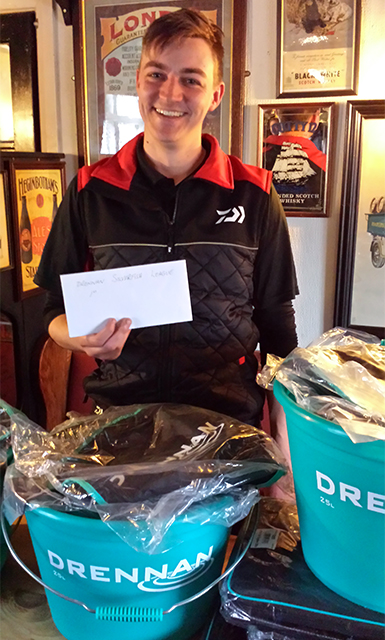 League leader, and England International, Cameron Hughes endured a difficult day frustratingly catching carp on peg 9 of Donno Lake. But, despite being interrupted by carp for most of the match he still managed to put together 8lb of silvers which were just enough to keep him in front of his nearest challenger Lee Bickerton who put in a spirited challenge catching 25lb of skimmers and roach for third on the day.
Cameron Hughes was crowned 2018 Drennan Silverfish League champion, but he wasn't the only family member to do well. His dad Nathan also won the match on the day from peg 8 of the New Canal fishing maggots across for 34lb 3oz of tench, ide, skimmers and roach.
Runner-up, Andy Beesley who was also on the new canal where he landed nineteen fish (mostly tench) for 26lb 6oz.
Despite the weather, this has been a fiercely contested league and has attracted former World and European Champions as well as England internationals, plus a strong field of quality anglers.
"The organisers like to be fair and spread the prizes and prize money between the top twelve anglers. I would like to thank Drennan International, Rycroft fisheries and the Old Crown for there hospitality."
Last Round
1st: N Hughes (Nathans) 34lb 3oz
2nd: A Beesley (Nathans) 26lb 6oz
3rd: L Bickerton (Nathans) 25lb
4th: S Hemmingrey (Drennan) 20lb 10oz
---
Final League Results
1st: C Hughes (Daiwa) 107lb 12oz
2th: L Bickerton (Nathans) 101lb 13oz
3th: N Hughes (Nathans) 94lb 5oz
4th: A Beesley (Nathans) 88lb 5oz
5th: R Dowding (Mill Tackle) 87lb 14oz
6th: S Winter (Drennan) 85lb 12oz
7th: P Ashley (Max Tackle) 83lb 7oz
8th: W Swinscoe (Drennan) 81lb 4oz
9th: N Bull (Shakespeare) 80lb 11oz
10th: S Hemmingray (Drennan) 79lb 9oz