It was great to see so many new faces during the 22/23 season, the votes have been counted and we can finally reveal that the winner is……….. Lee McManus!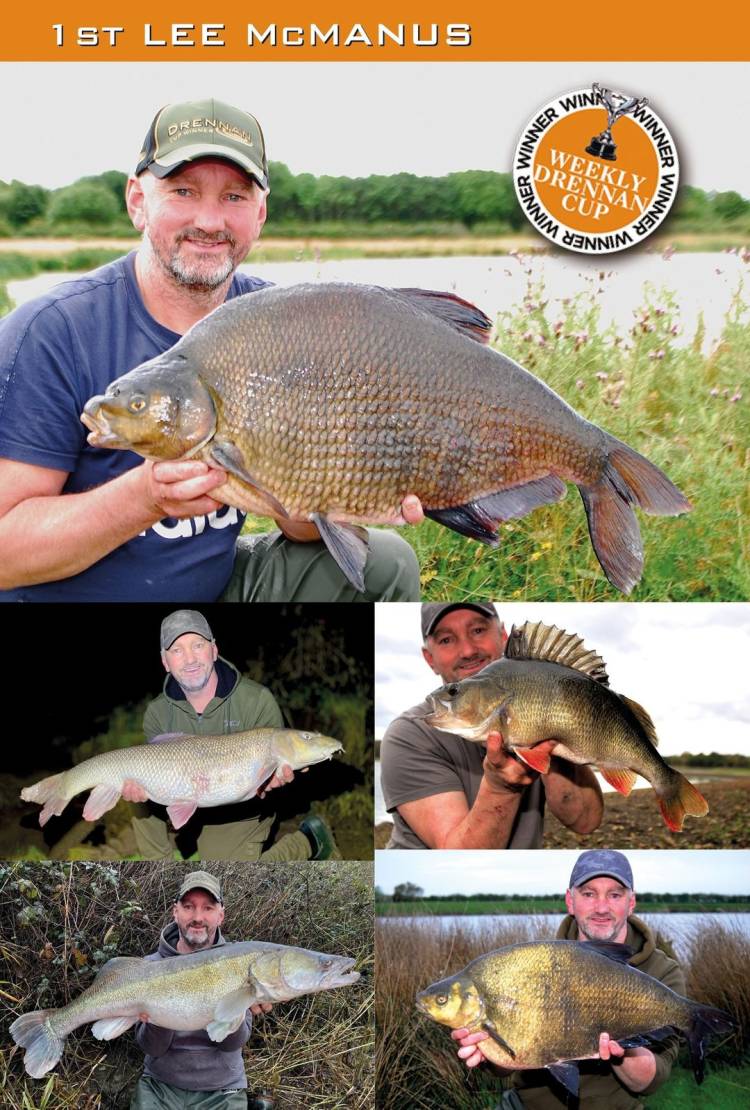 Lee finished the season with 5 weekly awards, the highest number awarded to a single angler this season. He started quite early on the award front, landing his first weekly when he banked a 16lb 14oz bream in May which was followed up by another specimen bream, weighing 17lb 11oz in July. Fast forward a few months and he'd switched targets and was then on the predator hunt, catching a 4lb 12oz perch in November, then a 16lb 6oz zander in December before finishing off in style with a stunning 17lb 14oz barbel in January.
Lee is no stranger to the Drennan Cup, having already had his named engraved on the prestigious trophy for the 99/2000 season which saw him land a British Record 16lb 10oz bream, along with a further specimen on 15lb 9oz, and 2 zander weighing in at 15lb 2oz & 14lb 4oz to finish in second place behind the late, great, Terry Lampard.
Along with having his name engraved on what is regarded as the biggest cup in specimen fishing, Lee also bags himself a cheque for £2000.
Anglers submit their captures to the Angling Times and we will then consider each one for a weekly award which includes a cheque for £80 and each first time winner gets a weekly winners cap and badge. The lucky winners are then published in the Angling Times and once the season has ended a full list of the contenders are showcased to the weekly award winners from the past 5 years and they vote for who they believe should be crowned champion.
Well done Lee!
The Podium
2nd Place
Alan Stagg (Four awards) – 18lb 4oz Bream, 18lb 1oz Barbel, 7lb 11oz Chub and 3lb 8dr Roach.
This year's Drennan Cup runner up is Alan Stagg who finished the season with 4 awards and lands himself a cheque for £1000.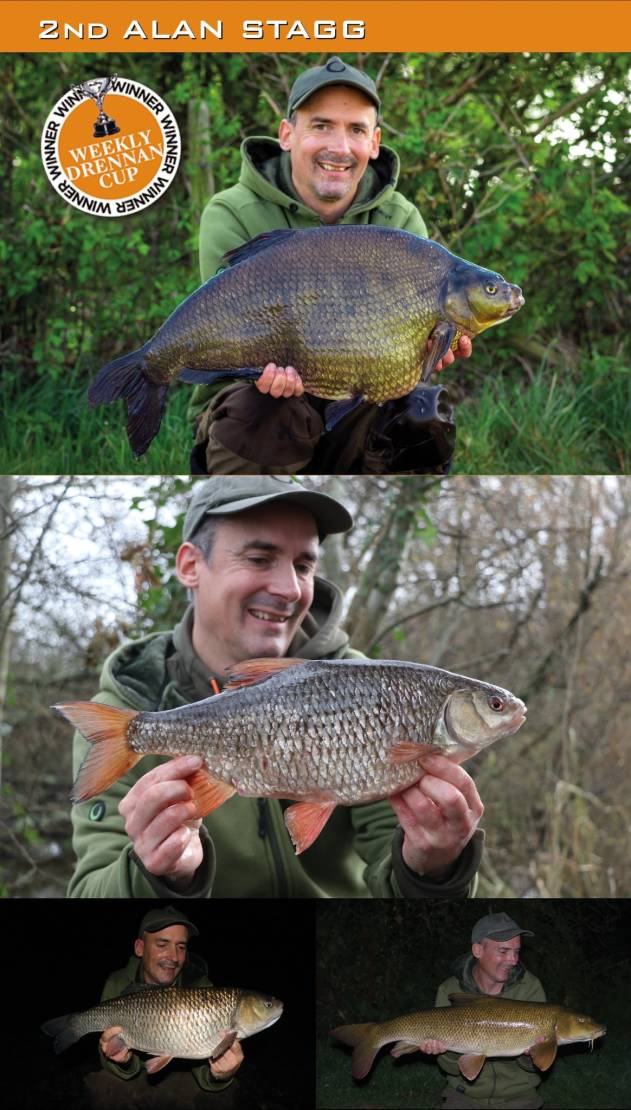 Alan is no stranger to the Drennan Cup, after winning it back in the 2014/15 season, and further finishes of a second and 2 fourths dating back as far as 2008/09.
Starting of the season with a bang, Alan banked his first weekly award with an 18lb 4oz bream in early May. For his second award of the season, Alan landed a lovely 18lb 1oz barbel from the Hampshire Avon in late September and quickly followed up his third award with a 7lb 11oz chub from the River Thames in October. His fourth and final award was for a stunning 3lb 8dr Hampshire Avon Roach, landed in early January completing his quadruple for the season.
Well done Alan!
3rd Place
James Champkin (Four awards) – 16lb 1oz Bream, 17lb 4oz Barbel, 33lb 2oz Pike and 17lb 14oz Barbel.
Taking third place in this year's Drennan Cup is James Champkin who also managed 4 weekly awards during the 22/23 season and has earned himself a cheque for £500.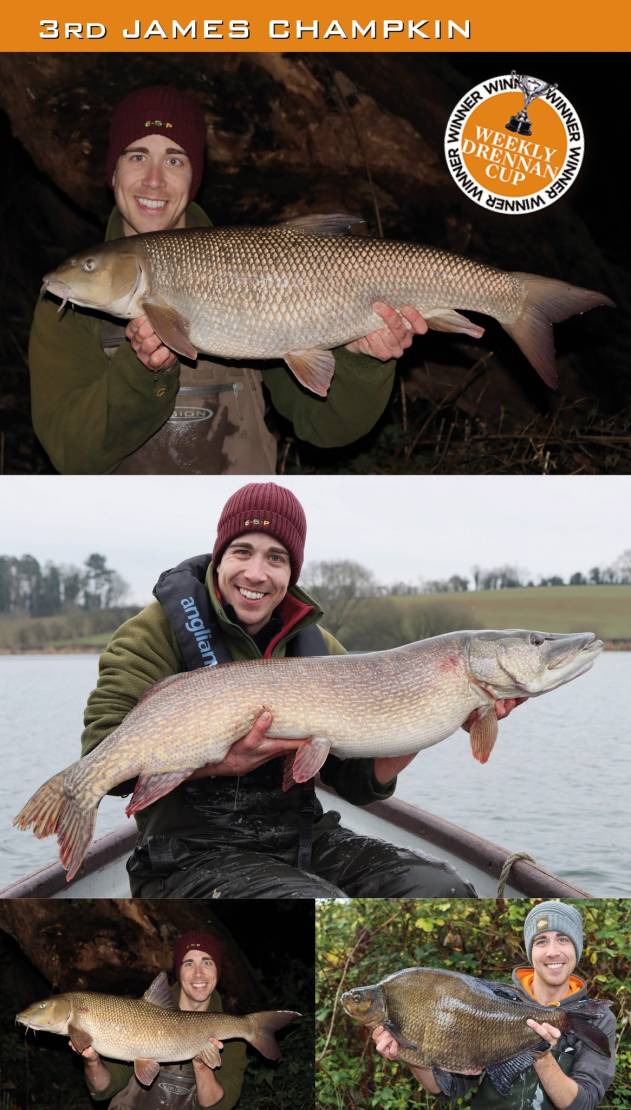 The Dynamite backed angler had a late start on the awards front, bagging his first for a late October breaming, tipping needle round to 16lb 1oz. His second award followed soon after for a 17lb 4oz barbel in late November. For his third weekly, James banked himself a lovely 33lb 2oz pike and then quickly followed up his fourth award for a 17lb 14oz barbel.
This will be the second time James had his name engraved onto the most prestigious cup in specimen fishing, after finishing fourth during the 2019/20 season.
Well done James!
4th Place
Dan Woolcott (Three awards) – a brace of 3lb 8oz Roach,12lb 6oz Tench and 3lb Grayling.
Taking the final podium place for the 22/23 Drennan Cup season is Dan Woolcott who finished the season with three awards, and bags himself a cheque for £250.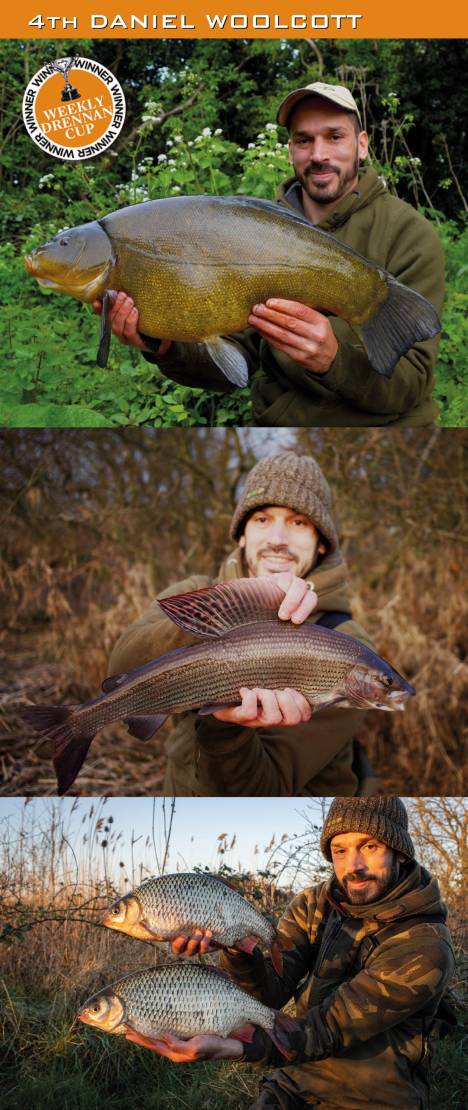 Dan got off to a flying start to the season, earning his first weekly award in April for a stunning brace of 3lb 8oz roach. This was then followed up by a 12lb 6oz tench in May before landing his third and final award in late February for a lovely 3lb Scottish grayling.
Well done Dan!
---
How To Enter
Weekly Drennan Cup prizes are awarded to anglers who have caught spe­cimen fish by design.
If you have caught a specimen fish by design contact Angling Times on 01733 395111 or email [email protected]
All contenders are put forward for consideration by Drennan and are featured in Angling Times. Weekly win­ners receive a £80 prize, while the overall cham­pion each season gets £2,000 plus their name engraved on the prestigious trophy.