***** Drennan Cup Winner *****
In one of the most closely-fought finishes in the competition's history, Simon Daley has won the 2020/21 Drennan Cup £2000, narrowly pipping big-eel specialist Steve Pitts to the title.
Hundreds of weekly winners from the past five seasons cast their votes, and Simon and Steve were neck and neck right up until the last day of voting, when Simon edged ahead.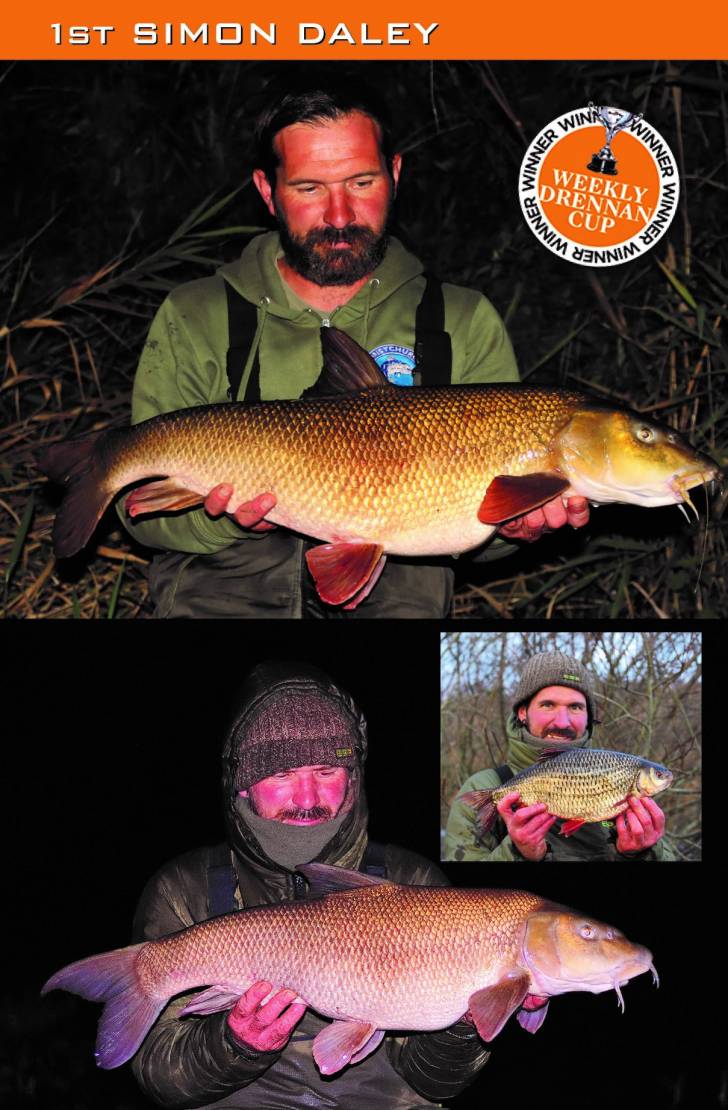 Fishing was banned for most of last spring, normally a bountiful time for big-fish specialists, so there were fewer people than normal on multiple awards – compare that to Rich Wilby's record-breaking eight awards on his march to the title last year! However, we saw two new British records and some truly remarkable specimens landed across the board.
Simon (45), a roof tiler from Hampshire, received weekly awards for barbel of 16lb 3oz and 17lb 3oz, and a remarkable 3lb 8oz roach, but winning the Drennan Cup still came as a shock to him.
"I'm absolutely speechless," the Angling Times.
"I don't feel worthy of having my name on that cup alongside legends like Alan Wilson and Terry Lampard. Those guys are my heroes, so I can't say how much of an honour it is to be alongside them."
While anglers in the past have gone all out to win the Cup, Simon revealed that he goes fishing just for the joy of it and sends in any big fish he catches along the way for consideration of a weekly award.
"I come from a generation where you know you've caught a big fish if it makes it into the weekly papers," he told us.
"I don't put most of my fish on social media but I've got nothing against those that do."
Although he fishes stillwaters, rivers are Simon's first love. He has access to the legendary Hampshire Avon, from which all his award-winning fish this past season have been caught.
"There's something about rivers that I find a bit wilder than lakes," he said.
"You've generally got more space, and don't feel hemmed in as you can on stillwaters. The Avon truly captivates me. The number of times I've driven home from there and felt totally in awe of what just happened is something that keeps me coming back."
Alongside his award-winning barbel and roach, Simon also had a 7lb 7oz chub that missed out on an award, but completed a memorable hat-trick on the river.
"Three years ago, I joked about my season's targets with a mate of mine, and said I wanted a 3lb roach, a 17lb barbel and a 7lb chub form the Avon. I never expected it to happen, so it just shows how good the current form of the river is."
As he works five, sometimes six days a week, evenings are often Simon's best bet for fishing, and it was on short, after-work sessions that he landed his barbel and chub.
"Another good thing about rivers is that you don't always need to spend hours on the bank," he said.
"Having a few jobs near the river, I was able to pop down after work and thankfully made the most of some good fishing conditions."
Of all his fish, it was the immense 3lb 8oz roach that Simon cherished the most.
"I've enjoyed phenomenal roach sport on the Avon over recent seasons, last year landing 41 fish over 2lb mark," he told us.
"The three-pounder had always eluded me, but after landing the three-and-a-half pounder I was in dreamland. I don't think it's a fish I'll ever top… but I'll certainly enjoy trying!"
Simon wins £2,000 and has his name engraved on the famous trophy, which he will keep for a year.
The Podium
2nd Place – £1,000
Steve Pitts: 10lb 2oz eel, 7lb 2oz eel

3rd Place – £500
Matthew Fernandez: 11lb 4oz tench, 2lb 12oz roach, 4lb 3oz crucian, 3lb 2oz grayling, 3lb 2oz 8dr grayling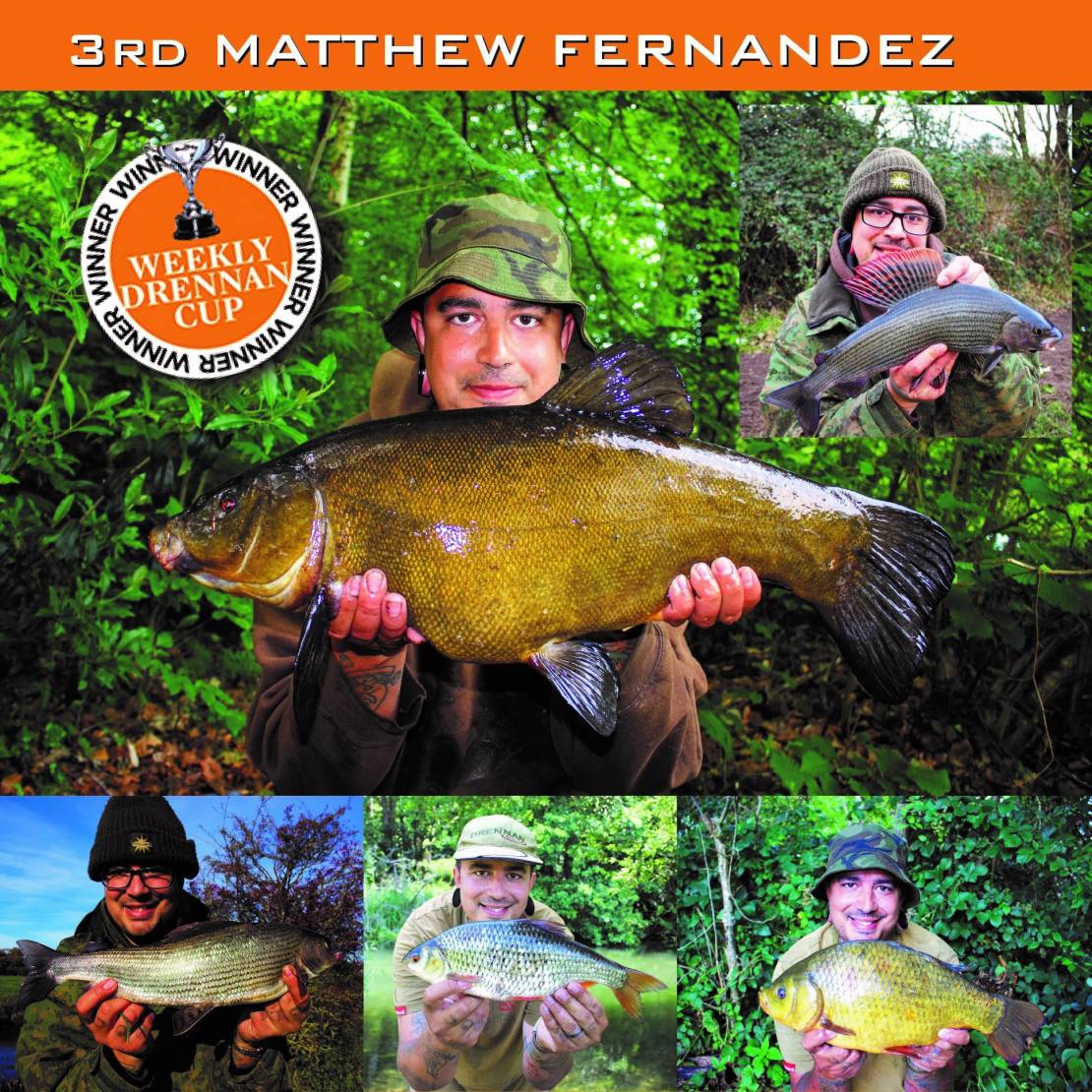 This 4lb 3oz crucian was just one of five weekly awards for Mathew Fernandez 
4th Place – £250
Daniel Woolcott: 12lb 6oz tench, 6lb 4oz eel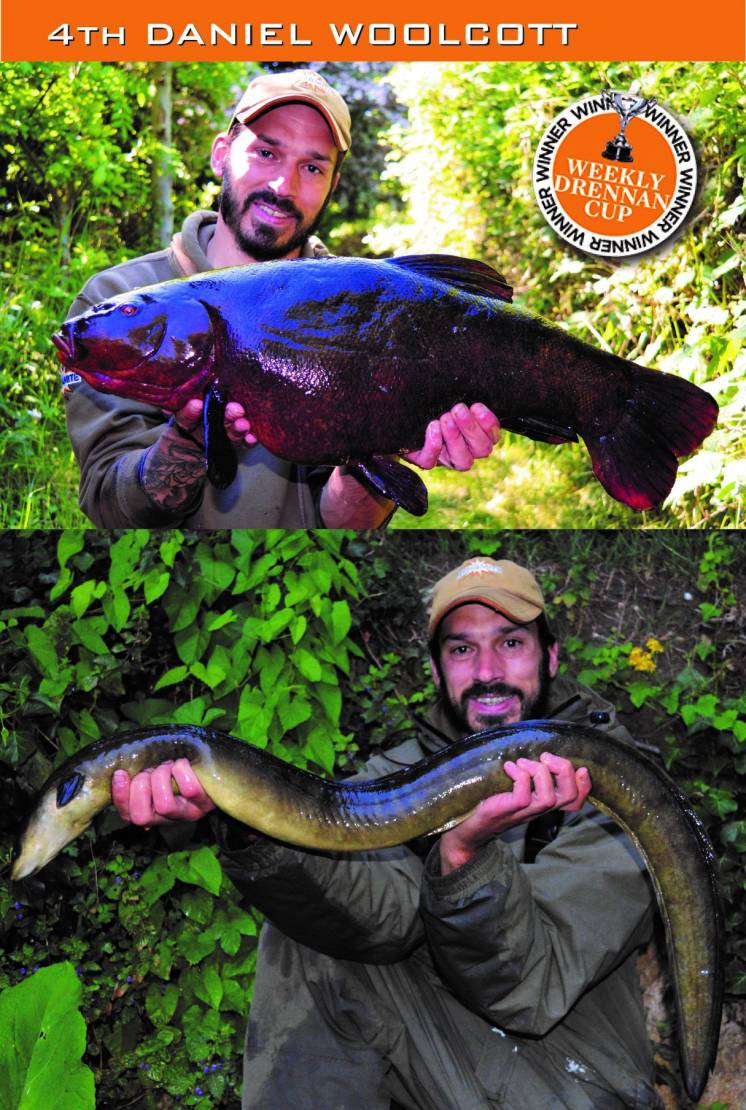 ---
How To Enter
Weekly Drennan Cup prizes are awarded to anglers who have caught spe­cimen fish by design.
If you have caught a specimen fish by design contact Angling Times on 01733 395111 or email [email protected]
All contenders are put forward for consideration by Drennan and are featured in Angling Times. Weekly win­ners receive a £80 prize, while the overall cham­pion each season gets £2,000 plus their name engraved on the prestigious trophy.