***** Drennan Cup Winner *****
After 51 weeks and over 160 weekly awards, we finally have a winner, Richard Wilby is this year's Drennan Cup champion!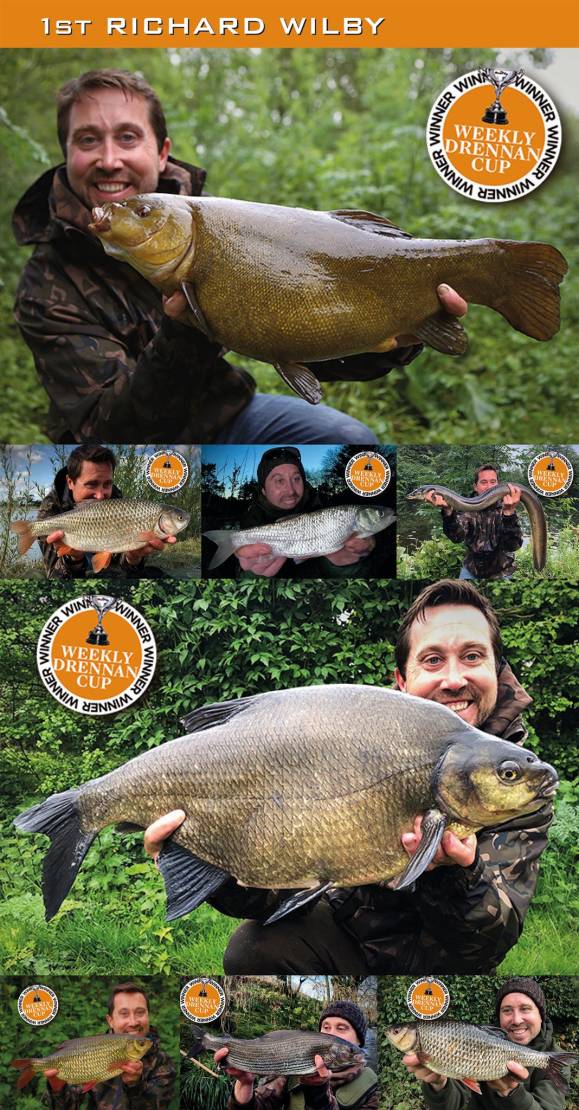 Richard finished the season with an amazing 8 weekly awards and was definitely rewarded for his efforts, which included trekking over 14 miles on a Scottish river in search of specimen grayling by winning what most consider to be the UK's most prestigious specimen fishing competition. Not only does Richard get his named engraved on the same cup as some of the country's best anglers during it's 36 year history, he also bags himself a cheque for £2000, which we understand he has donated to the Make-A-Wish foundation, top marks Richard!
Anglers submit their captures to the Angling Times and we will then consider each one for a weekly award which includes a cheque for £80 and each first time winner gets a weekly winners cap and badge. The lucky winners are then published in the Angling Times and once the season has ended a full list of the contenders are showcased to the weekly award winners for the past 5 years and they vote for who they believe should be crowned champion. This year Richard amassed a total of 166 points from the previous winners which gave him a 38 point lead over 2nd place. Richards's captures included a 1lb 1oz dace, 3lb 2oz grayling, 2lb 9oz and a 3lb 2oz roach, 6lb 9oz eel, 11lb 11oz tench, a 3lb 6oz rudd and an 16lb 2oz bream.
Richard told us "I've always been an Angling Times fan and I was lucky enough to work for them for a few years and the Drennan Cup captivated me. I've always followed it since and aspired to be like those anglers and one day see my name on the trophy. I tried really hard last year but Darryn thoroughly deserved the title and I was happy with second, but it was so close. It made me hungrier to compete this season so I really did my homework and planned what I could catch, where I could go and when I could go. Of course a lot of that preparation didn't pay off, but some of those sessions thankfully came to fruition.
I guess if you have an opportunity you really do need to pounce on it, and that paid off for me. I got my timing right. In regards to specimen angling as a whole it's definitely a huge part of the sport in the UK now. Anglers want a new challenge and I think a lot of carp anglers are switching to target different species. A decade ago anglers were winning the cup with one or two awards but now many are recording multiple awards in the season. Maybe it's because there are more specimen waters available to anglers than ever before.
I'd like to make a comment on the age of the anglers competing in the competition this year too. If you look at the other winners you could say specimen angling is becoming a younger man's sport now. It's great to see that some fresh blood has been brought to the cup and the future looks great. I'm sure even more younger anglers will want to compete after this.
Every time I think about it I can't stop smiling – it really is a dream come true and I can't wait to see it officially in print! Over the moon is an understatement. It's hard to properly celebrate in these current circumstances but winning the Drennan Cup really is a dream come true.
I can't thank everyone enough who voted and congratulations to the other winners. Their catches are just as good as mine and I'm in no doubt that they will be crowned champions in the near future."
---
How To Enter
Weekly Drennan Cup prizes are awarded to anglers who have caught spe­cimen fish by design.
If you have caught a specimen fish by design contact Angling Times on 01733 395111 or email [email protected]
All contenders are put forward for consideration by Drennan and are featured in Angling Times. Weekly win­ners receive a £80 prize, while the overall cham­pion each season gets £2,000 plus their name engraved on the prestigious trophy.