September saw the 26th South West Trade Match hosted by Manor Fisheries Todber.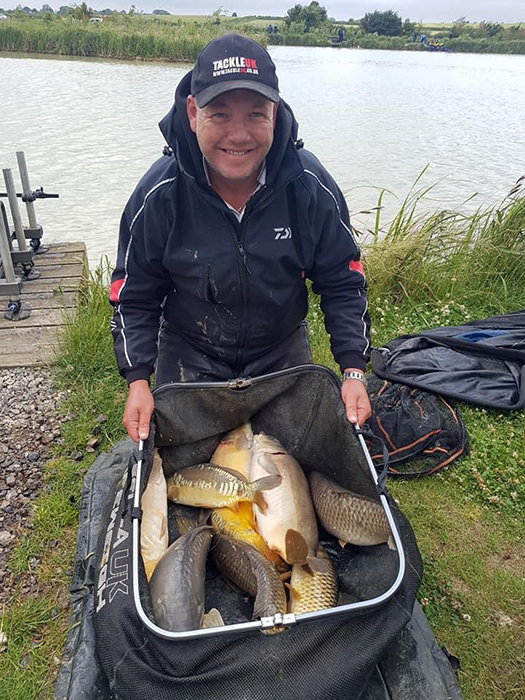 28 Anglers representing Tackle shops around the southwest fished Ash and Hill view lakes.
With overnight temperatures dropping during the previous week fishing had slowed down slightly.
However, it was still very busy fishing for predominantly F1s and small carp, silverfish generally didn't feed on the day. With the winning weight of carp being 196lb for Scott Russell of Tackle UK and the top weight of silvers being 29lb 4oz for Steve Kedge of Somerset Angling Bridgwater.
Main pools
Scott Russell – Tackle UK. 207lb 8oz
Steve Kedge – Somerset Angling. 144lb 10oz.
Tony Rixon – Veals of Bristol. 119lb 8oz.
Silverfish pools
Steve Kedge – Somerset Angling. 29lb 4oz.
Nicky Collins – M5 Angling. 24lb 8oz.
Graham Tapingdon – Homestores. 20lb 10oz.
Sections
A – Lee Woodhouse – Bait-Tech – 101lb 14oz
B – Pete Neate – Wiltshire Angling – 115lb 2oz
C – Glen Radford – Tackle UK – 117lb 12oz
Dave Drake commented: The weights speak for themselves. An incredibly well-run Fishery. It was impossible to predict which lake would win on the day let alone a swim.
Many thanks to both Manor Fisheries Todber for doing such a good job of hosting the event and to the Dolphin Inn Gillingham for their catering both before and after the event.