Specialist angler, Jamie Cartwright caught this impressive bream during his latest session on a large gravel pit.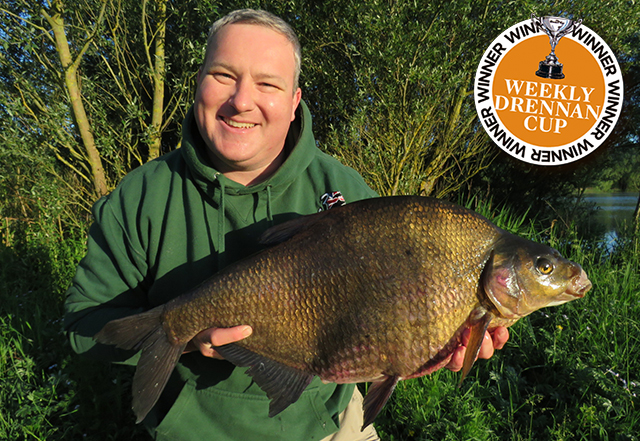 "I arrived for an overnight session to find a group of fish milling around off a point swim I had fished previously. So I fired out a couple of loose boilies towards the fish to move them off the area, this would allow me to get my rigs into position and put a bit of bait out without scaring the life out of them and sending them off to the other end of the lake.
"The plan worked a treat, and not too long after dark the fish were back giving me liners and rolling over the spot. Sleep was hard to come by, as every liner got me up, only for the bobbin to drop back to its original position. I had to wait until 3 am for a proper bite, the culprit being a 9lb female Bream. I recast and got back in the sleeping bag, but was up again an hour later landing another female weighing 13lb 8oz.
"At this point, I decided to sit up by my rods and make a cup of tea and watch the pit wake up. Before I could finish my tea the other rod signalled a take. It originally looked a very similar size to the '13' but as I lifted it the net I could tell it was significantly heavier. On the scales, it fell one ounce shy of equaling my personal best of 15lb 6oz, but far from being disappointed, I was delighted to have got so close!"
All of Jamie's fish fell to either balanced artificial corn or a 14mm white "Redemption" wafter from 3FT baits. These were presented on size 8 ESP Curve Shanx hook, on short 3 inch 15lb Gravel Braid hooklink. These were tucked in to a 2.5oz ESP Mega Method covered with a tacky fish meal groundbait. Due to carp being present Jamie used 12lb ESP Syncro XT Loaded and the latest MK2 2lb Specialist Distance Tench & Bream rods.
Jamie landed himself a weekly Drennan Cup award for this capture in Angling Times on the 13th of June.