The capture of one of the biggest tench of the year shows why many anglers are now targeting the species in search of a new personal best.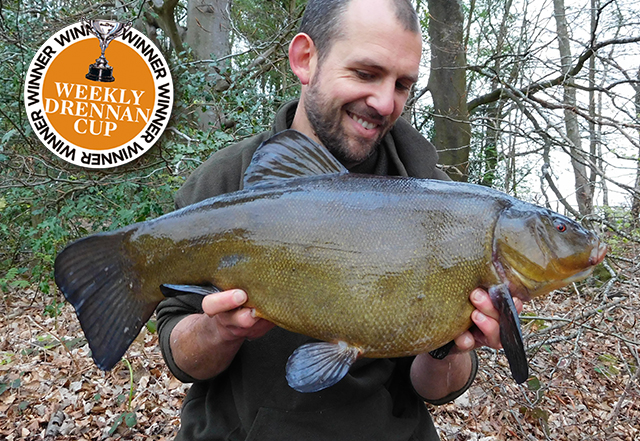 Dan Gale had a patient approach to thank for helping him to fool this huge 11lb 12oz specimen.
After finding an area of new weed growth on his local club water, the 33-year-old made the decision to feed up to the mark during the evening but not cast his rigs until sunrise the following morning.
"I fed a mixture of hemp, pellets, maggots and sweetcorn to this new spot which I knew could be banker for a big fish," Dan told Angling Times.
"It was tempting to cast a rig over the top from the get-go but I wanted to give the tench some time to settle on the bait."
At around 5am Dan finally cast a Drennan maggot feeder loaded with red maggots to his chosen spot and exactly an hour later his bite-alarm screamed.
"From the off I knew I was into a good fish but there are a lot of carp in this water," Dan continued. "I've been fortunate to catch a few double-figure tench from this venue before though and somewhere at the back of my mind I knew I could be playing one of the very big ones.
"My doubts were finally quenched after a strong 7-8 minute fight when the fish finally surfaced at the net – It was, without doubt, the best fight I've ever had from a tench."
By the end of the session, an elated Dan managed to add four more tench to 4lb to supplement the 11lb 12oz monster – which smashed his personal best by 1lb 2oz.
"This 11lb 12oz fish is my fourth over 9lb in five mornings of fishing this year – so I'm absolutely over the moon."
Dan took all his fish on helicopter rigs complete with Drennan maggot feeders, braided hooklinks and fake corn and maggots presented on a size 12 hook.