Drennan's Jack Griffiths can usually be found working in our rod building on a range of things, but this time we find him playing, and landing, a 102lb fish on a 12ft Waggler! Over to Jack…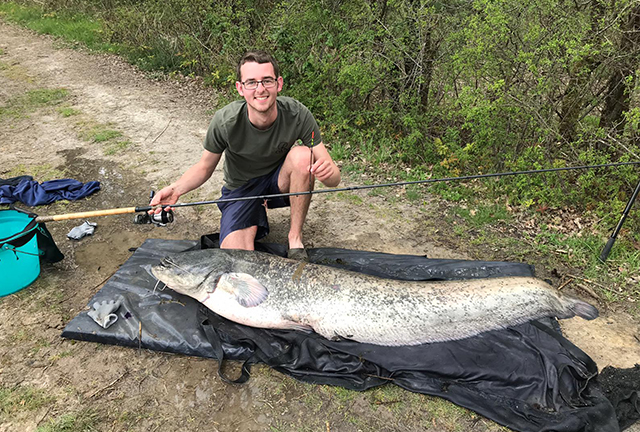 'Last week I traveled to Rock lakes in central France with the aim of catching a new PB carp which at that time stood at 26lb. The lake is 12 acres in size and has a good head of carp to 56lbs and catfish to 190lbs.  
The lake itself is circular with one island and a narrow channel which passes between the island and the bank on the far side.  This leads to a really carpy corner.  It is generally quite shallow with it being a maximum of 4 foot deep across the whole lake.  
One afternoon I thought it would be a good idea to rest the swim and take a walk down to that little corner with my Drennan Waggler rod and a pot of worms to see if I could stalk myself a carp or two.'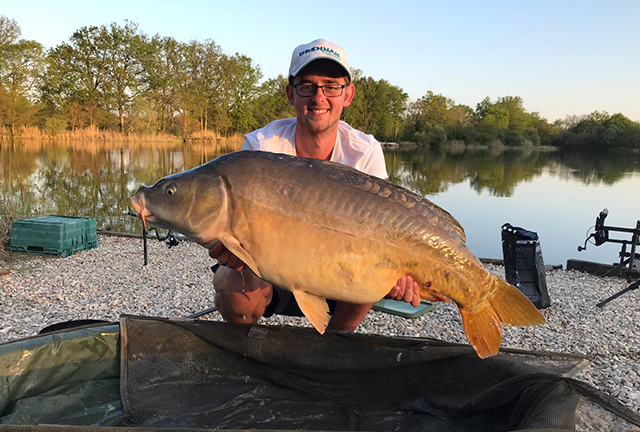 'I set up close in the margin and It wasn't long before I had a little dip on the float which resulted in a 10lb carp in the net. Not the biggest by any means in but this gave me the confidence to carry on and see if I get one a little bit bigger. I went a little further down into the corner as I was nervous that I had disturbed the swim with the commotion of the last fish.
That move paid off for me that's for sure, within 30 seconds of casting the float out it had sailed under again . The rod hooped over and before I could react there was 90+ yards taken off line off my reel. I knew that whatever was on the end was large!  It was quite apparent that the Series 7 12ft Waggler rod with 12lb Supplex mono I was using was being tested to its limit!
Initially I had thoughts running through my head that this perhaps was the big black lake record mirror and as I saw the fish roll at 50 yards and  all I could see was a long dark mysterious shape.  My heart skipped a beat and I knew I had to land this fish whatever it was.'
'This fish battered and bruised me, I experienced aches and pains in places I've never felt before. But I sure wasn't going to give in! The rod certainly stepped up to the job and just after the 50 minute mark of the fight this beauty gave herself up. Netting the fish was tricky as this beast was 6ft long, but with a little help from a very good friend John who I was fishing the week with, I was rewarded with this 102lb creature!!!
At the end of the week I ended up with 40 fish which included carp up to 40lb. John did equally well with 37 fish, with carp to 43lbs.
I still can't believe I managed to land such a large catfish on my waggler rod but it just shows that it is truly amazing what can be achieved when fishing and this will be a memory in that I will never forget!'
Jack