Jon Arthur got off to a great start in this year's prestigious UK Championship competition with a massive match winning 102kg (225lb) weight.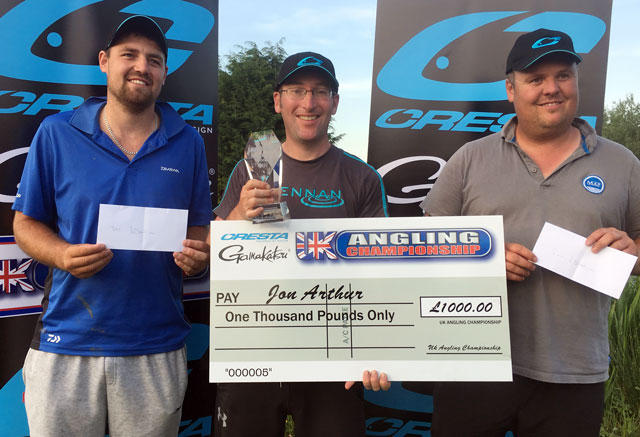 Round One of this year's 80-angler series, newly sponsored by Cresta and Gamakatsu, was held at the ever-impressive Lindholme Lakes. Jon found himself drawn on Loco Lake and with just one 10-man section spaciously pegged around this pool and a nice breeze blowing his way he really fancied his chances.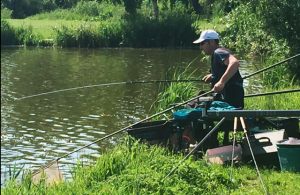 "As I was setting up there were loads of big carp on the surface and I was fully expecting it to be a 'mugging' day on the pole and pellet waggler," the former three-time champion explained. "However, once the match got underway those dark shapes soon drifted away and I reverted to fishing casters shallow for F1s.
"I had just one proper carp, a roach, a skimmer and a rudd, and all the other fish I caught were F1s from 1lb to 4lb. I ended up fishing between 12 and 14 metres out, loose feeding six pints of casters and catching anything from eight inches to 3ft deep.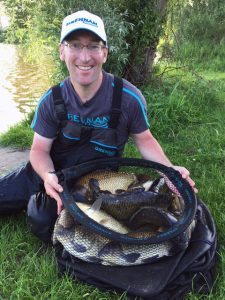 "I had a very occasional look down the margins but most of the time was spent fishing shallow. Although I caught a few fish later on with a homemade Crystal jigger float, the most successful rig was a standard fixed setup. This consisted of a 0.2g Crystal Dibber shotted with a simple bulk just above a 6in hooklength on 0.18mm Supplex to a 0.12mm bottom and a size 18 Kamasan B911 hook. I also used my Acolyte Carp pole with a Ghost Double 2 Kit.
"It's fantastic getting off to such a good start, although it will be touch and go whether I can fish all four rounds this year. My wife and I are expecting our first baby, which is due sometime between the second and third round!"
The event is once again being televised and will be shown on BT Sports later this year.
Round One Result:
1st Jon Arthur 102.125kg
2nd Jamie Hughes 76.025kg
3rd Jimmy Brooks  71kg
4th Pete Bailey 66.975kg